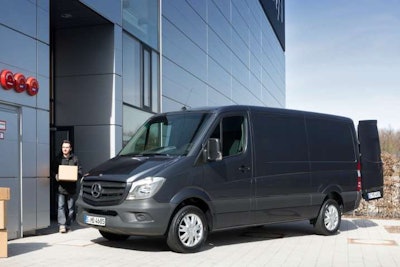 Sprinter vans finding their way stateside next model year will come standard with a new engine.
Mercedes said this week it will continue to offer the 3.0-liter V6 BlueTEC diesel, but a new 2.1-liter four-cylinder BlueTEC diesel will take over as standard.
Last week, Mercedes-Benz released global details for the 2013 Sprinter, but this week announced updates for the model imported to the U.S. for the 2014 model year.
The Sprinter four cylinder produces 161 horsepower and 265 pound-feet of torque, Mercedes says. The engine will be married to a seven-speed automatic transmission. The optional 3.0 six cylinder engine drives 188 hp with 325 lb-ft of torque, and will be paired to a six-speed automatic trans.
Among the largest upgrades are safety features including blind-spot assist, an optional warning system that detects vehicles in an adjacent lane. Also optional is a camera system that monitors highway lane dividing markers in the event the driver falls asleep or diverts unexpectedly from their lane.
Highbeam Assist has also been added as an option. The system uses a camera to activate high beam headlamps automatically.
Mercedes did not announce fuel economy specs, but up to an 18 percent improvement in fuel economy is expected with the four cylinder engine versus the 2013 V6 model.
Sales will begin this fall and sales price is expected to be released this summer.