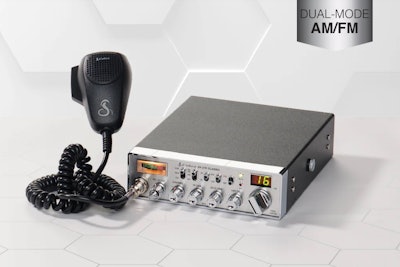 Cobra Electronics
The long wait is over.
Cobra Electronics rolled out its new line of AM/FM CB radios today after leading a four-year petition with the Federal Communications Commission to legalize FM mode on CBs in the U.S.
Cobra competitor President had supported the petition which the FCC approved in July of 2021. Cobra also credits support from customers, sources from multiple online CB radio forums, off-road vehicle clubs and distributors for helping to gain petition approval.
The approval marked the biggest change to CB radios since the FCC's 1977 decision to greenlight a frequency allocation expansion from 23 to 40 channels.
"Our team has been on the forefront of working with the FCC since 2017 to make AM/FM CB radios possible," said Gail Babitt, CEO of Cedar Electronics, parent company of Cobra. "The implications this will have on users like professional truck drivers, fleet managers, and local delivery services will be amazing – making communication clearer and more productive than ever while on the road.
"The change is also not just a revolutionary new accomplishment for Cobra, but the culmination of the hard work and determination from the many parties that went into this endeavor – and will set a new standard of product innovation as we head into the future of CB radio technology," Babitt said.
The new dual-mode AM/FM capabilities are now featured on Cobra's best-selling CB radio models, including the 29 LTD Classic, 29 LTD Chrome, and 19 MINI AM/FM, available for purchase starting today. The 29 LTD NW will be available later this spring.
FM provides users with improved audio quality and greater ability to circumvent background signal noise typical on CB's long-standing AM side by locking onto the strongest signal possible.
The Department of Electrical Engineering and Computer Sciences at U.C. Berkeley reports that FM provides an "improved signal to noise ratio (about 25dB) with regards to man-made interference" over AM.
Users transmitting on FM will only be able to communicate with other FM users.
Current CB radio owners looking for AM/FM capabilities can learn more about Cobra's new CB radios with dual-mode AM/FM at www.cobra.com or at Travel Centers of America, Pilot Companies and Loves Travel Centers throughout the country. For more information on the AM/FM capabilities and Cobra's work behind the FCC ruling, visit www.cobra.com/amfm.