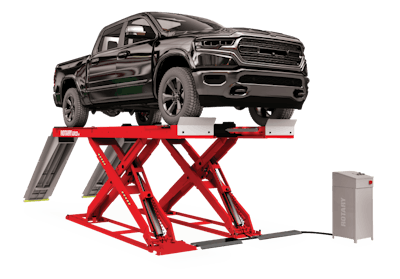 Rotary
Rotary announced the addition of the new XA12 Alignment Scissor Lift to its growing line of automotive lifts for independent shop owners, dealership service departments and car enthusiasts.
The XA12 serves as the ideal small bay alignment lift solution with the largest 4-wheel alignment wheelbase range available in its class. With a 78- to 164-inch 4-wheel alignment wheelbase range and 12,000-pound lifting capacity, the XA12 is designed with space and flexibility in mind. Shops can offer alignment services with bay space to spare, and technicians can perform alignments on a wider range of vehicles.
Introduced at the 2022 SEMA Show, the XA12 easily fits within the smallest of service bays with a minimum bay size footprint of 12 by 23 feet. Its open front and rear design provide technicians with greater access to vehicle adjustment points making wheel alignments and other repairs easier to perform.
Additionally, the XA12 features adjustable radius gauges that quickly and easily configure for short and long wheelbases. The alignment scissor lift also comes standard with two 6,000-lbs. capacity air-operated rolling jacks, longer rear slip plates to accommodate a greater wheelbase range and its hinged ramps automatically self-chock and drop down when the lift is raised, increasing the workspace around the lift.
"This is another example of Rotary's commitment to 'Serving the Shop'," said Tim Vaughan, vice president of sales for Vehicle Service Group Americas, parent company of Rotary. "The XA12 lift combines the ultimate in lift versatility and service capacity, allowing shops to serve a wide range of cars up to large trucks and anything in between."
"Judging by the number of questions our sales team fielded about it at this year's SEMA Show, we think this small footprint lift has the potential to generate some big results for our customers," Vaughan added.