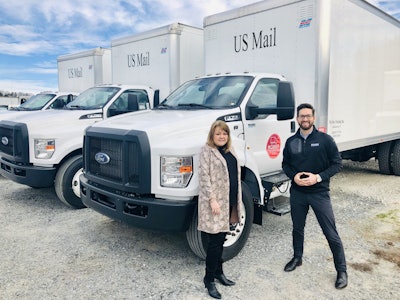 McAbee Trucking
Rising diesel and gasoline prices alongside other inflationary pressures, plus the pressure to cut emissions, could lead more fleets to embrace propane autogas versus other alternative fuels like all-electric, which comes with a bigger price tag.
As prices soar at the pump to record levels, President Joe Biden and Transportation Secretary Pete Buttigieg continue to endorse electric vehicle adoption as a way to lower transportation costs and cut emissions.
However, ongoing vehicle shortages, charging infrastructure challenges, higher upfront costs and limited range for medium- and heavy-duty commercial vehicles has critics, including AmeriGas national account manager Chris Ransom, questioning the Biden administration's ceaseless efforts to support the fledgling EV industry.
"Talk to people that are trying to buy electric vehicles. They're not out there," Ransom said. "The range isn't there. The cost is astronomical. The kilowatt hours aren't available. [Power providers] are saying it's going to take 562 billion dollars to get us halfway to cover the vehicle miles traveled. And they'll get it done by 2045."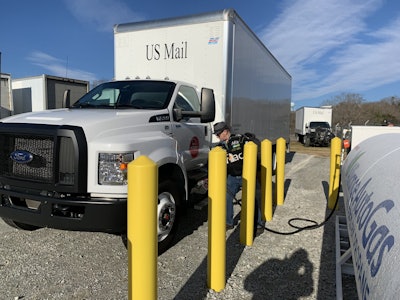 As the Biden administration dedicates billions of dollars to install more EV chargers, it's also tapping into the Strategic Petroleum Reserve and reaching out to other nations to help meet fuel demands in the U.S. following the ban on oil imports from Russia.
[Related: EPA announces new regs for heavy-duty trucks]
Ransom views domestically produced propane as a more affordable and secure solution to lower fleet emissions and fuel costs. He's not alone.
"Historically, propane has been 30% less than gasoline," said Monte McLeod, director of autogas at ThompsonGas in Sumter, South Carolina.
The savings are even greater compared to diesel according to McAbee Trucking vice president Lisa McAbee who credits propane trucks for lowering their emissions and cutting 70% in fuel costs compared to diesel.
And the numbers look good in other ways, too, like with biopropane, a relatively new fuel that bears the same characteristics of its petroleum-based sibling yet has a lower carbon intensity score than all-electric given its roots in renewable materials like plants and fats.
"[Biopropane] has taken off pretty hard here in the past 18 months," Ryan Zic, vice-president of sales at Roush CleanTech, said of the biofuel's sales performance in California.
McAbee, who's running propane box trucks converted by Roush CleanTech, said one of her trucks ran on biopropane (also known as renewable propane) during a short stay in Virginia.
"It worked wonderful just like the regular propane I have," said McAbee, whose fleet has been running deliveries for the U.S. Postal Service for the past 51 years.
McAbee's big fuel cost savings over diesel are coming from a three-year contract she locked in with Blossman Propane. Her propane-powered Ford F-750s were also cheaper than diesel trucks, which helped pave the way for more truck purchases that, unlike other alt fuels, do not require her to lean on grants or incentives.
"We now have seven propane autogas trucks," McAbee said. "We've already ordered 20 more for this year."
Going green while saving green
While the cost savings over diesel are welcomed, McAbee said it was her goal of "going green" that ultimately led her to choose propane.
"It was helping the environment; that was my first goal, plus the affordability of the trucks and the [propane] tanks," McAbee said. "Other alternatives I looked at required grant money because the prices were so way out there that I couldn't afford them. [With propane] I didn't need grants. I just went in and bought the trucks. Plus, it was also the fact that I could have my own infrastructure at my own place."
[Related: Cummins announces fuel agnostic powertrain line-up to help transition to zero emissions]
It was a major propane industry group that convinced McAbee to try propane.
"I was approached by the Propane Education Research Council (PERC) about doing a test run with propane autogas on my routes because of the distance we travel in Charlotte. It was a perfect fit," she said. "One of my drivers demo'd it for a month, but after one week I decided that's the way I wanted to go."
Fueling was made easier by having a propane pump installed on site as part of her three-year lease with Blossom. This eliminates the need to fuel up at stations where time is money.
"It doesn't take any longer than fueling diesel, and ... my drivers (are) not standing in line, so I don't have to pay for that time of them standing, waiting to fuel," McAbee said.
Pleased with maintenance and performance
McAbee said maintenance on a propane rig is similar to a gasoline-powered vehicle, plus there's no need for diesel exhaust fluid and diesel particulate filter service. There's also no need for venting modifications in a garage like with compressed natural gas (CNG), which McAbee tried prior to switching to propane.
"You just change [the oil] like you do on your car," she said. "You change it every 8,000 miles. There's nothing special. You don't have to have a special building to do any service or maintenance like you do with CNG. You don't have to have a special mechanic to do it."
McAbee also favors propane's performance in colder weather.
"If it gets below 30, diesel can freeze, so you have to put conditioners in it, and sometimes the conditioners don't work. I've had diesel freeze up before, so I don't have to worry about the propane freezing for me," she said.
"[Propane] ran perfectly — same miles per gallon, same performance. The truck didn't change any performance on it at 19 degrees, 18 degrees," McAbee continued. "The weather does not cause any difference. Even when it gets hot, it doesn't cause a difference. With CNG the miles per gallon changes in the weather because it expands when it gets hotter so you get bigger miles per gallon. When it's colder, you get (fewer) miles per gallon."
Zic said McAbee's decision to go with propane doesn't come as a surprise given her experience and research efforts.
"There are electric trucks out there. There's compressed natural gas, LNG, all these different things to meet sustainability goals and reduce carbon intensity," Zic said. "And I think the fleets that track their maintenance, their fuel spending, very closely are the ones that adopt propane the fastest like McAbee Trucking because they see this as a no brainer. This is meeting their sustainability goals, and it's cheaper to operate than traditional fuels."