Natural gas has been an option for fleets seeking a green energy alternative for years, but only found its niche in select operations – namely return-to-base fleets that didn't need a lot of power.
Cummins on Thursday took a swipe at the lack of natural gas big bore power, announcing plans for a 15-liter with up to 500hp and 1,850 ft.-lbs. of torque. The engine, which the company hopes to debut in early 2024, is also the basis for a recently announced hydrogen internal combustion engine currently under development at Cummins.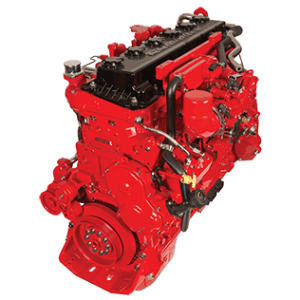 Currently, Cummins Westport's ISX12 G and ISX12N are the largest displacement natural gas engines availablein trucks, kicking out up to 400 hp and 1450 lb-ft of torque. The segment is otherwise compiled of 6- and 9-liter models.
Puneet S. Jhawar, general manager of Cummins natural gas, said initial interest in the 15-liter natural gas powertrain "has far exceeded our expectations."
"We are bringing this to our customers who have been asking for a natural gas option for long-haul trucking and we are bringing them a very cost-effective and efficient option," added Brett Merritt, vice-president of Cummins on-highway engine business. "This engine will not only deliver the excellent performance characteristics that customers expect from Cummins, but also a compelling total cost of ownership experience, coupled with a potential carbon-negative powertrain option when powered with renewable natural gas."
When powered with renewable natural gas (RNG), using methane collected from organic waste as the primary fuel source, the system can be credited with a neutral to negative carbon index, resulting in net greenhouse gas (GHG) emissions at or below zero.
The Columbus, Indiana-based engine builder has widened its focus on its path to zero emissions, including advanced diesel solutions, natural gas, hydrogen engines, hybrids, battery electric and fuel cells, along with an increased use of low carbon fuels and renewable electricity and related infrastructure. Expanding the product lineup, Cummins said, will help achieve its PLANET 2050 environmental goals, which include lowering emissions from newly sold products by 30% by 2030 and a goal of carbon neutrality by 2050, aligned with the Paris Climate Accord targets.
"We believe this natural gas option is a game changer as a cost-competitive power option to existing diesel powertrains in heavy-duty trucking, making it a great complement to reduce CO2 emissions," said Srikanth Padmanabhan, president of Cummins' engine business.
The 15-liter natural gas engine – expected to weigh 500-pounds less than comparable 15-liter diesel engines currently available – can pair with a Cummins Eaton Automated Transmission Technologies Endurant HD Transmission and Cummins Fuel Delivery System. Other transmission pairings will be available at launch for specialized applications.