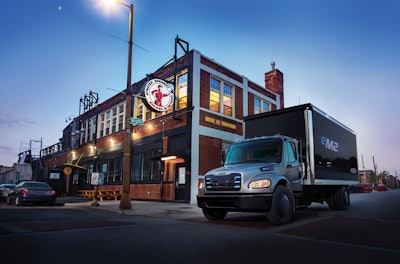 Daimler Truck AG and Cummins announced Tuesday the companies have signed a memorandum of understanding establishing a global strategic partnership for the development of medium-duty engines.
The joint venture will initially work toward meeting Euro VII 2025 emission standards, which is expected to be Europe's final step in tightening emissions regulations as the continent works toward phasing out fossil fuels entirely. Stateside, the implications will be that the same platform will eventually replace the Detroit DD8 and DD5 engines as available powerplants in North American trucks. Current Greenhouse Gas Phase II regulations governing heavy truck emissions in the U.S. are already in place through model year 2027.
"We'll offer the DD5 and DD8 until the second half of the decade, and offer a Cummins solution thereafter for a conventional powertrain offering," Daimler Trucks North America (DTNA) told CCJ via statement. With serial production of its electric eCascadia and eM2 set for next year, DTNA earlier this month unveiled Detroit electric ePowertrain.
RELATED: Detroit unveils ePowertrain for electric trucks
"With the changeover to Euro VII, we would have to invest considerable resources in the further development of our medium-duty engines," said Martin Daum, chairman of the board of management at DTNA parent Daimler Truck AG. "We are now freeing up these funds to focus them on the technologies that are crucial to our long-term corporate success in the transformation of our industry."
As part of the agreement, Cummins will establish an engine plant within the Mercedes-Benz Mannheim, Germany, campus to produce medium-duty engines compliant with the Euro VII emissions standard. Cummins will use its existing footprint and production and supply chain networks in all other regions for use in other Daimler Trucks' brands, including Freightliner.
Daimler expects its partnership with Cummins to enable the acceleration of its development efforts on alternative and emerging technologies, including non-diesel engines. The company said going forward, the focus of Daimler Truck AG will be "on the further progression of zero-emission drive technologies, as well as further development of commercial heavy-duty drivetrains."
The production of the current medium-duty engine generation by Daimler Truck AG will end with the start of production of the Cummins engines at Mannheim.
The Daimler heavy-duty engine platform (HDEP) for the heavy-duty vehicle segment of Daimler Trucks and Buses will remain in the Daimler Truck AG portfolio. The HDEP engine family will continue to be manufactured by the global production network in Mannheim and Detroit, Michigan, and fitted in heavy-duty trucks, in touring coaches as well as in third-party products worldwide.