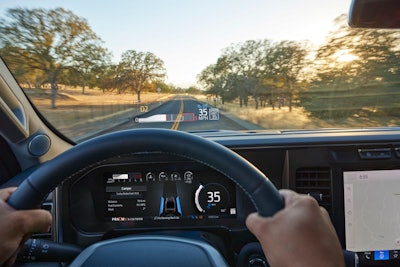 Ford
A fighter jet-inspired head-up display. An available Pro Trailer Hitch Assist system that uses machine learning. These are just two of the new tech tools available on the new 2023 Ford F-Series Super Duty.
Ford set out to make its latest Super Duty more convenient and time-efficient than ever – easier to monitor gauges while driving, hitch a trailer, back up to a loading dock, make tight turns on off-road trails or install and operate upfit equipment.
An all-new head-up display, inspired by fighter jet planes, gives drivers quick visual access to important information without pulling their eyes from the road. The HUD system projects information in front of the driver on the lower half of the windshield.
"We wanted to create an amazing digital experience for our most-focused truck customers, and our research led us to look at aircraft HUD concepts because of their task-oriented hierarchal structures," said Mark Sich, Ford digital design manager. "But because pilots are trained to read information in a very prescribed and technical manner, our implementation needed the interaction to be more intuitive for the driver to immediately understand the context of the information being presented."
Drivers can choose from three views: normal mode, tow-haul mode or off-road mode. Each view changes automatically when a new drive mode is selected. In normal mode, information such as speed, speed limit and navigation prompts are displayed. Tow-haul mode changes to include tachometer, gear and trailer brake output. Off-road mode displays tachometer, drive line status and vehicle pitch and roll updates.
Driver-assist tech makes work easier
Ford reports that over 90% of heavy-duty pickup owners use their trucks to tow. The 2023 Super Duty arrives with best-in-class max payload
and best-in-class max diesel gooseneck towing of 40,000 lbs. In addition, the 7.3-liter V8 gas engine produces 430 hp and 485 lb.-ft. of torque, while the High-Output 6.7-liter Power Stroke V8 diesel produces 500 hp and 1,200 lb.-ft. of torque, all best-in-class.
Available Pro Trailer Hitch Assist, an exclusive F-Series driver-assist feature developed in-house by Ford's Advanced Driver-Assist Systems team, is designed to make an often-challenging task simple. Using machine learning and computer vision, the system automatically identifies trailer hitches and aligns the truck's hitch ball to a conventional trailer coupler with the touch of a button.
This industry-first technology uses a rear camera and rear corner radars to align the hitch with the trailer coupler while simultaneously controlling the truck's speed, steering and braking on behalf of the driver or operator.
Super Duty owners can now power a jobsite or a tailgate with available Pro Power Onboard, with 2.0-kilowatts of output. Power outlets are accessible inside the truck and cargo box, or they can be mounted on chassis cabs with a special outlet installation kit.
Cameras and sensors help interpret the world around the vehicle and enable available driver-assist features designed to simplify the towing experience and build confidence, including:
Tailgate Down Camera and Rear Park Aid Sensors: Industry-first camera and sensors on the top of the tailgate provide visual and audible alerts when the tailgate is lowered to make backing up to a loading dock or hitching a gooseneck or fifth-wheel trailer easier than ever
Onboard Scales with Smart Hitch: Estimates payload in real time and provides guidance on trailer tongue weight distribution directly on the center touchscreen or within the taillamps
Blind Spot Information System (BLIS) for Fifth-Wheel and Gooseneck: Can be attached to a trailer to help identify when vehicles are next to a trailer and indicate this in the side view mirrors
Pro Trailer Navigation: Plots routes that can be navigated with given trailer dimensions and weight to avoid potential issues with low bridges and tight turns
Trail Turn Assist: Feature that allows drivers to virtually lock either rear wheel to shrink their turn radius to 180 degrees while navigating tight corners on the trail
Helping business owners manage their fleet
For business owners and fleet managers, retrieving important fleet data from often-unreliable plug-in devices is a thing of the past. Among the Super Duty tech features are the Ford Pro Intelligence software products such as Ford Pro Telematics, a cloud-based platform that uses vehicle data to give fleet managers access to valuable insights to help accelerate productivity that can help reduce vehicle and fleet downtime.
Super Duty already offers a well-equipped mobile office with a spacious interior and available interior work surface and an embedded 5G modem. This first-in-class feature gives Super Duty owners faster Wi-Fi, mapping and navigation while on the job.
With over-the-air software updates, Super Duty adds new features and capabilities to enhance the customer experience. OTAs are capable of updating the vast majority of vehicle computer modules for quick and easy wireless upgrades that help enhance features, quality, experiences, capability and convenience.
Streamlining the upfit process
The new Ford Pro Upfit Integration System (UIS) changes how business owners work with upfitters to install, operate and control body equipment and upfits – such as utility cranes or snowplows.
UIS provides aftermarket equipment makers with improved access to the truck's electrical system and signals to seamlessly integrate after-market equipment. Equipment makers can also add digital buttons that allow Super Duty drivers to control their equipment from the SYNC touchscreen inside the truck. And with more reliable connections and vehicle integrations, owners no longer have to rely on cutting and splicing into the vehicle wiring and potentially voiding their vehicle warranty.
The system also allows for high levels of customization and interlocks, like preventing the transmission from shifting into drive with a raised boom lift.
The all-new 2023 Super Duty is shipping to customers now. For more information on features, pricing and availability, please visit www.ford.com or visit your local dealer.