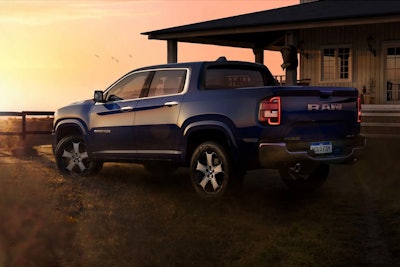 Ram
While Ram's Rampage may not be the midsize truck Ram fans have been hoping for, the powerful compact may still strike a chord with truck buyers in Brazil where the pickup was recently introduced.
A video posted on YouTube by Ram do Brasil (translated from Portuguese it means Brazil Ram) shows the 4x4 truck resembling its bigger brothers with aggressive angles, stark lines and badging albeit on a smaller scale.
Ram engineers don't say much about the pickup during the video. In fact the description, translated below, actually has more to say about Rampage:
Agitation and fury. Two strong words that translate exactly what Ram's most important launch in Brazil will do to the pickup market. In this last episode of the Follow The Ram miniseries, you can learn a little more about the Rampage, our first model produced in the country. A strong name for yet another powerful Ram.
Okay, so stress the phrase "a little more." While it's pretty clear to see that the truck has a unibody design and some taillights that resemble the American flag—very cool touch by the way—the powertrain isn't revealed. There are some hints though.
A digital driver's side display shows the tachometer redlining at 5,000 rpm and the speedometer topping out at 240 km/h or 150 mph. The engine revs high at that point in the video to offer a glimpse of what's to come.
But what is it exactly? Ram's website for Brazil advertises Rampage with a new Hurricane motor that produces 272 horsepower and 295 lb.-ft. torque. Numbers like that has it beating the compact Ford Maverick truck which delivers 250 horses and 277 lb.-ft. torque when spec'd with the 2.0-liter EcoBoost. Not bad! But…the compact Hyundai Santa Cruz pickup beats all with 281 horsepower and 311 lb.-ft. torque when equipped with the turbocharged 2.5-liter inline four.
A 170-hp diesel engine that churns out 280 lb.-ft. torque will also be available for Rampage. That makes sense since diesel trucks are popular in South America where the average price according to globalpetrolprices.com has fallen the past few months from $4.69 to $4 a gallon (converted to the U.S. dollar).
An electric retractable tonneau will also be available to help keep gear protected in the bed. Rampage will be available in Rebel, Laramie and R/T trims.
Ram CEO Mike Koval Jr. is pleased with truck's name which recalls the Dodge Rampage of the early 80s, a two-door utility coupe offered outside the U.S. similar to the Chevy El Camino and Ford Ranchero.
"You think of power. You think of courage. You think of work ethic. That's who we are as a brand," Koval says in the roughly one-minute video. Check it out.
As far as Rampage's entrance to the U.S. market, Ram's been quiet on that. Given a crowded midsize pickup segment, it may not be a bad idea to roll out a compact truck first. Ford and Hyundai, particularly Ford, have shown that there's plenty of interest.