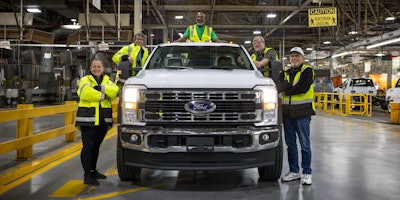 Ford
Ford announced today that its now shipping all trims of its all-new 2023 pickup line to customers.
The start of production follows a recent $700 million investment that added 500 jobs for Louisville-assembled products, including Super Duty.
"Investing in our members is always the right thing to do," said UAW Region 2B Director Dave Green. "This announcement is another testament to the hard work our members give every single day of their lives. I thank Ford for continuing to invest in our members and communities."
Ford assembles more vehicles in the U.S. and employs more hourly workers in America than any other automaker. Ford's F-Series pickups have remained the best-selling trucks in the U.S. for the past 46 years.
[Related: 2023 Ford Super Duty nails best-in-class towing]
The all-new Super Duty is loaded with technology aimed at helping workers do their jobs. It is the first pickup in the U.S. with embedded 5G capabilities, features a host of driver-assist technologies, and introduces the new Ford Pro Upfit Integration System, designed for customers who rely on upfits and body equipment such as utility cranes and plows to accomplish a job.
Super Duty's 5G modem from Qualcomm Technologies can also provide a Wi-Fi hotspot for up to 10 devices to help keep workers and families connected on the go, and support Ford Power-Up software updates while driving to keep making the truck better over time.
"Whether it is mining, emergency response, utility services or towing a boat, Super Duty is the tool for that gets the job done, and we know our customers are thrilled that it is coming," said Cannis.
[Related: Ford Super Duty tops list of durable vehicles]
Ford's Zero-Defect Launch Process has increased the number of quality checks during the assembly process and it's paying off.
Jake Klug, Super Duty Body Team Manager, noticed hood fits on initial trucks that were within spec but still could be seen as dissatisfying to customers. Klug quickly pulled a small team together, working nights and weekends to ensure all trucks in hand fit the visual quality Super Duty customers expect.
Once trucks roll off the line, every vehicle is driven 25 miles by a Ford employee as an additional quality check to help identify issues before delivery.