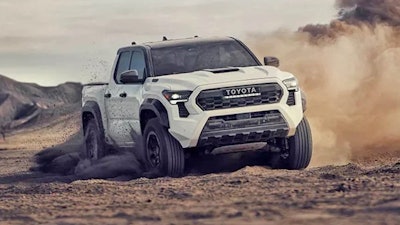 Reddit
The Toyota Tacoma won't be officially revealed until this Friday but someone may have already beaten them to it.
The photo above was recently posted on Reddit with the headline, "Breaking: Leaked 2024 Tacoma image from Toyota website!!" One of the top comments on the popular social media site gives the truck a big thumbs up.
"Damn, that's nice," writes Reddit user tonypearcern. "Cover the second half with your thumb, blur your vision, and you've got the new 4Runner."
The truck looks a lot like the all-electric Tacoma that Toyota teased a couple years ago on its website which is posted below. Take a look.
Compared to the 2023 Tacoma shown below, the Tacoma pictured on Reddit looks more aggressive thanks to those angry eye headlights, increased angles across additional fascia and more pronounced flared fenders. I have to say that I'm a fan. The mini black louvers under the headlights (which may be purely cosmetic) remind me of the eye black we used to wear during football games.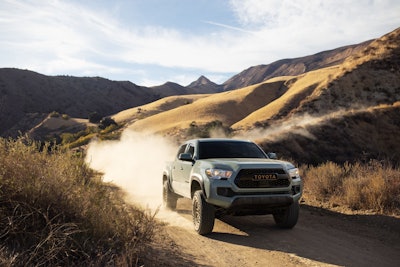 Of course, Toyota hasn't said much about their latest Taco. We do know that it will be available with an i-FORCE MAX hybrid engine and a six-speed manual.
The king of midsize will also be available with a Trailhunter package which according to Toyota is good for "extended adventures." That may mean exportable power, more exterior lighting and who knows what else.
Playing up on that outdoor theme, Toyota reports that the 2024 Tacoma will be available with a JBL FLEX removable and portable speaker so you can "bring your tunes from the dash to the campsite." A photo shows the removable speaker nesting in the center of the dash.
We'll have to wait until this Friday for the rest. Regarding the authenticity of the Reddit photo, Toyota issued the following statement: "We are excited to see the enthusiasm around the new Tacoma and we are looking forward to the official reveal on May 19th."