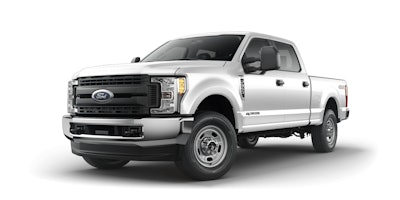 Ford
Automotive data firm Vincentric announced that Ford recently received more of their Best Fleet Value in America Awards than any other brand.
The 18th annual awards presentation also recognized Toyota for its "impressive performance for this year with five winning vehicles."
Ford claimed three of the four overall awards for the truck category and six of nine awards for the van category.
Leading the charge were Transit cargo and passenger vans which won their segments for the sixth and seventh time respectively. This year's award winners were the Transit 150, 250 and electric E-Transit 350 cargo vans.
The Ford Maverick Hybrid XL won a truck award for the second year; the F-250 XL for the second third time; and the F-350 XL for the seventh time.
Toyota claimed the top spot for a half-ton pickup with its revamped Tundra. Other winners include the Toyota RAV4 Hybrid LE, Corolla SE, Camry Hybrid LE and Sienna LE.
The Subaru Outback Base nailed its sixth award and the Lincoln Nautilus Base its fifth. The Mercedes-Benz Sprinter 1500 won its fourth award while the Dodge Durango GT RWD obtained its ninth win.
Other brands that received awards include Audi, Chevrolet, Jaguar, Kia, Nissan, Tesla and Volvo.
Winners are chosen based on Vincentric's cost of ownership analysis which measures over 2,000 vehicle configurations based on typical fleet use.
Cost factors of depreciation, fees and taxes, financing, fuel, insurance, maintenance, opportunity cost and repairs are used along with 28 different lifecycle scenarios to evaluate fleet vehicles in all 50 states plus D.C.
Winners were identified by determining which vehicles had the lowest fleet lifecyle cost in the most scenarios within its segment.