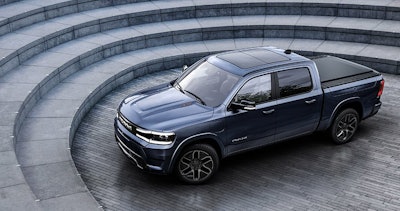 Ram
Timing is everything and for Ram that's particularly true when it comes to rolling out their first electric pickup.
The all-electric Ram 1500 REV debuted to a huge Super Bowl audience this past Sunday and while we don't know a lot about the truck, Ram CEO Mike Koval is confident that their strategy to carefully gauge customer reactions to electric pickups that have already launched in the nascent segment will put it ahead of the competition.
Unlike Ford, Rivian and GM which have already gotten electric pickups to market, the Ram 1500 REV will roll out in Q4 of 2024 and for Ram that's just fine.
"A few years ago, even a year and a half ago, I think many saw Ram as being late to the game or laggards or this or that," Koval told Hard Working Trucks. "All of a sudden, our start of production is right around the corner and we're in this. We're in the game."
Waiting and watching as competitor's electric pickups roll out in a market that's traditionally kept a close eye on capability will help give Ram an edge Koval said.
"What our timing has enabled us to do, of course, is to watch and understand what the competition has announced, and that that will ultimately allow us to push past what they have already revealed in the marketplace in terms of what our customers care about the most which historically, of course, is towing and payload, but more importantly [with EVs] range and charge time," Koval continued.
Besides studying the market to produce an electric pickup that will out-perform competitor's pickups, Ram has also been careful to watch the pace of a developing EV charger network.
Of particular interest is having chargers in place that can deliver power at 350 kilowatts. While the Ford F-150 Lightning can plug into a 350kW charger it will not charge at that rate. It's currently rated to charge at a max of 155kW.
The Ram REV will be able to charge up to 350kW which means a faster charge time. How fast? Electrify America, the nation's largest open DC fast charging network, said a full charge can be had in "as little as 30 minutes" with their 350kW Hyper-Fast charger.
While reviewing the 2022 Ford F-150 Lightning, I learned to expect an average of 45 minutes for a full charge. Shaving off 15 minutes is a welcomed change that can add up to a lot of saved time. Four charging sessions at 350kW versus 155kW can mean having another hour of drive time instead of being stuck at a charger.
Kovel credits diligent research and the determination of Ram engineers to blow past their competition with faster charging, better range and greater towing and payload capacities when the vehicle rolls out in late 2024.
"We've created a customer performance index that basically takes all of what's publicly available from the competition, and we're using that to set and exceed our internal benchmarks," Koval said. "When we do come to market, which we think is going to be at the intersection of when demand hits a more mature market—from a demand and [charging] infrastructure perspective next year—that we will better meet our customers' real world needs on those core attributes."
Though he's not ready to talk numbers, Koval's confident that the Ram REV will take the lead in the emerging electric pickup market.
"We're going to announce key specifics when we get a little bit closer to the actual start of production, but suffice it to say, we will push past what the competition has announced," he said.
Slow and steady
The first electric Ram to hit the market will actually roll out later this year. Though the electric ProMaster is not yet posted on Ram's website, fleet interest in the zero-emission workhorse has been growing and has Koval feeling optimistic that early market enthusiasm will carry over to Ram REV.
"The demand for [electric ProMaster] has been absolutely stellar," Koval said. "We're on record saying Amazon has signed up to be our first massive fleet account and we have many others we just haven't announced yet.
"So using that as a proxy for the reasons we know well—TCO, route predictability and so on—I think there's absolutely a market. It's my intention and my vision to very much market [Ram REV] to fleets but it's not going to be easy," Koval continued.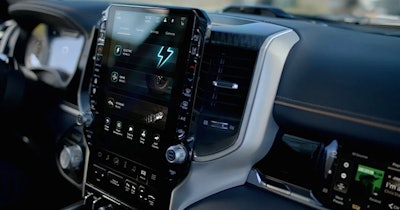 Ram like other OEMs has been battling an ongoing microchip shortage which according to the National Automobile Dealers Association hampered vehicle production and left dealers throughout 2022 struggling to get new vehicles.
While year-over-year 2022 sales decreased 8.2% compared to 2021, the good news is that dealers roughly doubled EV sales in 2022 with 259,728 units sold in 2022, a 92.1% jump over 2021 sale according to NADA.
Even with news of layoffs, inflation and higher interest rates, NADA expects new vehicle sales to increase 6.6% from 2022 thanks to a rising inventory levels which are expected to lower prices and increase incentives.
That's good news for Ram which is keenly aware of the challenges fleets and consumers face when taking on EVs that frequently come with higher price tags than their internal combustion counterparts and can cost nearly as much to fuel when powered on DC fast-chargers versus slower AC overnight charging.
"Everybody knows that the cost of electrification is high right now so it's not going to be a walk in the park and that's something that we are looking at very carefully," Koval said. "We know we have to be affordable. I'm not looking to alienate any of my current base, and I need to bring new people into the brand as well and that includes fleets. So I'm well aware and ultrasensitive to the pricing dynamics."
Ram plans on rolling out Ram REV "work truck oriented trim level available for both fleets and retail" with affordability in mind, Koval said.
The electric ProMaster is set to arrive at dealerships during the third quarter of 2023. The Ram REV is scheduled to follow in late 2024. Model year has not yet been determined.