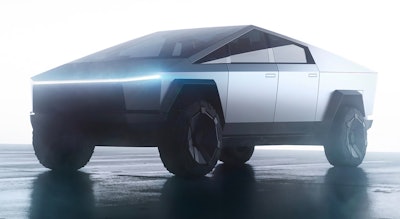 Tesla
Some say Tesla CEO Elon Musk knows how to work all the angles—and that just might be the case with the angular Cybertruck which was spotted recently with new side mirrors that would likely make a geometry major proud.
A video posted on Twitter by @DriveTeslaca, a Canadian media source dedicated to all things Musk and Tesla, shows the stainless-steel truck with triangular side mirrors. Last count, the 12-second video set to AC/DC's Highway to Hell had racked up 6.6 million views.
Musk responded to the short clip on Twitter: "Yeah. Still many small tweaks to make it better (and the side mirrors are removable by owner), but this is very close to production design." That short response has so far been viewed 8.1 million times and liked by over 36,000 Twitter users. Of course, with over 128 million followers, Musk, the sole marketing team for Tesla which has no PR department, is sure to get plenty of support and flak (see Aztek comparison below).
On their website, Drive Tesla Canada reports that Cybertruck's latest look "appears to show a new taillight design as well."
Tesla states on their website that Cybertruck "is the most powerful tool we have ever built." Payload and towing reportedly max out at 3,500 and 14,000 lbs. respectively.
Other features include 100 cubic feet of lockable storage; adjustable air suspension; seating for six; compressed air outlet; exportable power; and a "magic tonneau cover that is strong enough to stand on."
Whether Musk's marketing magic can sway enough buyers to shell out for the heavy Class 2 truck remains to be seen. Keep in mind that Class 2 vehicles cost more to register at the DMV. Here in Florida, that means paying three times as much as a Class 1 pickup.
The truck's blazing fast speed, which Tesla reports can go from 0 to 60mph in 2.9 seconds, and its advertised 500-mile range certainly sound impressive and will drum up more interest. But as I discovered recently when reviewing the 2022 Ford F-150 Lightning, quick off-the-line speed isn't everything particularly for those that are accustomed to using a pickup for hauling and towing.
Range in an all-electric truck also drops faster when towing and hauling versus internal combustion. Ambient temperature and topography can also take a big bite out of range and have you on edge at times hoping to hook up to that next charger sooner rather than later.
It will be four years ago this November when Cybertruck made its memorable debut in California. That night, the advertised bullet-proof Armor Glass fractured after being hit with a steel ball not once but twice. Musk told the audience that he wasn't sure why the glass had cracked so badly. He explained that during prior testing the glass had held up after being struck with a kitchen sink and tools. He did note that the ball did not penetrate the glass. But what about bullets? Will it hold up under fire? After all, Musk said it's bullet proof. I'd be happy to try out my new Sig P365 X-Macro to find out.
Cybertruck is expected to roll out this summer. A refundable reservation is available for $100 at Tesla's website. One Twitter user that will not be making a reservation, Twitter user WestEnd2021, compared the truck to the failed Pontiac Aztek. What do you think? Might the odd duck prove to be a great truck? Or should Tesla designers be forever banned from protractors?