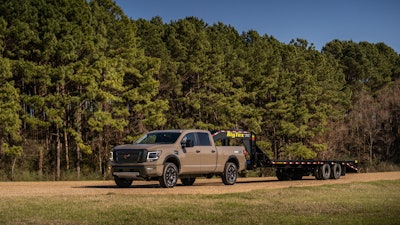 Nissan
Nissan Titan can take on plenty of tough terrain just not Canadian trails, at least not for the most recent model year.
"The Nissan Titan pickup truck has not been sold in Canada beyond model year 2021," Nissan reported in a statement. "We focused our resources on existing core models in our crossover and sedan portfolios."
According to Nissan, sales for Titan have been in decline in Canada and the U.S. Only three Titans were sold in Canada for the second quarter (presumably some leftover 2021 models) while 4,797 were bought in the U.S. during that same period which represents a 36.9% decline from Q2 2021.
To be sure, Nissan, like other OEMs, reported some tough sales numbers for the second quarter. Overall sales in the U.S. during Q2 declined 38.4% year-over-year while sales in Canada shrunk 23.4%.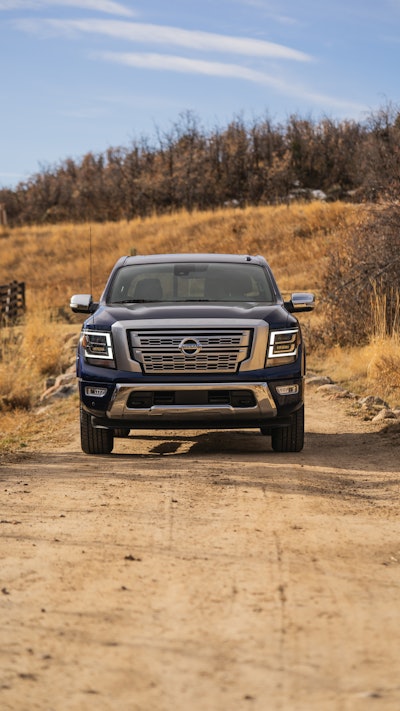 Such declines hit Titan hard considering that its popularity had already been waning in the highly competitive pickup market prior to historic inflationary gains which not only resulted in higher prices across the board but also higher interest rates. The sting of paying more for an unpopular pickup and then getting slapped with historically high fuel prices can certainly play a role in buying decisions.
News of Titan's tough times heated up this summer with some of the biggest names in auto journalism already leaning towards obituaries.
"Is Nissan killing off the Titan? Reportedly, yes," a MotorTrend headline from June reads.
Automotive News cranked up the criticism last month with this tough story lede: "The failure of the Nissan Titan could have been avoided."
While more than one auto enthusiast has pointed out that a vehicle kill-off in Canada typically signals the upcoming demise for that same model in the U.S., there's still no official word from Nissan regarding such plans.
According to MotorTrend, Titan "might be killed off within the next three years with no places to replace it with a new model."
Though support in the U.S. has dropped off this past year, the truck's Q2 sales decline at -36.9% is not as bad as Nissan's overall sales slump for that same time, -38.4%.
"Titan remains an important part of Nissan's showroom in the US, and we've seen a positive impact from Frontier in driving added awareness and consideration for our full-size truck," Nissan replied in a statement regarding the truck's potential end. "Titan remains in Nissan's truck lineup for the 2022 model year and beyond."
Titan is no slouch. The 2022 model comes standard with a 400-hp 5.7-liter V8 that delivers 418 lb.-ft. torque. Towing tops out an impressive 11,060 lbs. The truck boasts the most standard safety tech in its class and it comes with an industry leading 5-year/100K-mile bumper to bumper warranty.
The larger 5/8-ton Titan XD equipped with the now discontinued Cummins 5.0-liter diesel garnered a small, but loyal following. I won't soon forget the owner of the popular store Standin' on the Corner in Winslow, Ariz. who told me that her husband loved the Titan XD diesel so much that he had traveled cross-country to Florida to buy another one!
But such stories are the exception rather than the rule. The Titan XD's diesel posted 555 lb.-ft. torque at a time when pickup icons Ford and Ram were approaching 1,000 lb.-ft. That basically says it all. The Nissan Titan and Titan XD are typically viewed as too little, too late entrants that don't offer enough head-turning frills to convince shoppers to dump their old flames.
Pickup buyers tend to be brand-loyal, particularly fleets, and it takes a lot of convincing to get them to turn their back on a familiar friend. Nissan's short-lived Titan fleet lineup, which included a seldom seen regular cab, could not reel in enough converts. And now the rest of the lineup may be next on the chopping block.