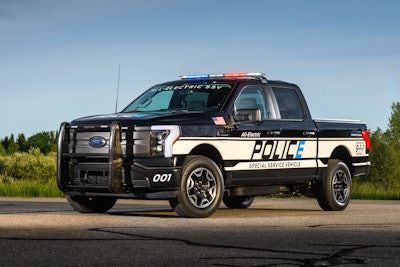 Ford
It's safe to say that Sheriff Rosco P. Coltrane would have caught up with the Duke boys' 1969 Dodge Charger if he had been driving the Ford F-150 Lightning Pro Special Services Vehicle.
Purpose built for law enforcement, the Lightning SSV can be spec'd to hit 0-60 mph in under four seconds making it quite possibly the nation's fastest factory-produced police pursuit vehicle ever.
The pursuit-rated Ford Mustang Mach-E AWD currently ranks as the quickest law enforcement vehicle with a 0-60 mph time of 4.03 seconds according to Government Fleet. At least for now on paper, the Lightning SSV beats it.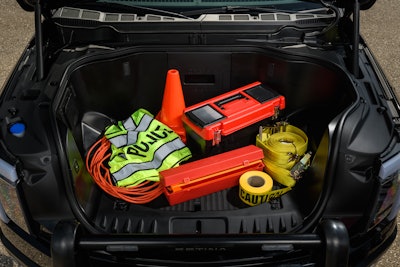 Think about that…the fastest, factory-produced law enforcement vehicle in the U.S. is an electric pickup that offers several advantages over internal combustion according to Ford Pro national government sales manager Nate Oscarson and it's not just speed.
"We're proud to offer America's first electric police pickup truck to local government customers who can use the truck's game-changing technology to help improve their productivity," Oscarson said.
"Pro Power Onboard can serve as a mobile power source to light up evening accident scenes on the highway, the electric powertrain helps to potentially reduce costs associated with fuel and scheduled maintenance needs and the Mega Power Frunk provides extra lockable storage on top of purpose-built police additions our customers have come to expect from the leader in police vehicles," Oscarson continued.
The nation's first all-electric law enforcement pickup is packed with plenty of features from the internal combustion version of F-150 Police Responder:
Police-grade heavy-duty cloth seats with reduced bolsters to help holstered officers enter and exit the vehicle more easily
Built-in steel intrusion plates in the front seatbacks.
Available red/blue, amber/white roof-mounted LED warning beacons
An upfit-friendly reinforced instrument panel top tray for easy mounting of police equipment
Easy-to-clean vinyl rear seats and vinyl flooring
Standard features include:
Interior: 12-inch digital cluster screen and 12-inch landscape-style touchscreen on the center stack
Exterior: Mega Power Frunk gives officers 14.1 cubic feet of lockable cargo area in the front and offers easy access for upfitters to locate a 220-amp DC-DC power source
Targeted performance and capability: 452 horsepower, 775 lb.-ft. of torque, 7,700-pound towing capacity and 2,235 maximum payload with a standard-range battery, and sub-four-second 0-60 mph acceleration, 580 horsepower, 775 lb.-ft. of torque, and 10,000-pound towing capability with the extended-range battery
Technology: Intelligent Range, SYNC 4, over-the-air Ford Power Up software updates and Ford Co-Pilot360 technology, including Automatic Emergency Braking and Blindspot Information System (BLIS) with Cross-Traffic Alert
Currently, Ford Pro customers include more than 12,000 police departments across the country and its police vehicle lineup outsells all other police vehicles combined.
Fleets with an interest in EVs can turn to Ford Pro and their lending arm FinSimple which offers flexible financing options for municipalities for vehicles as well as for charging solutions including depot installation, hardware and software to assist in the transition to electrified fleets
More information on 2023 F-150 Lightning, including range, will be released later this summer.