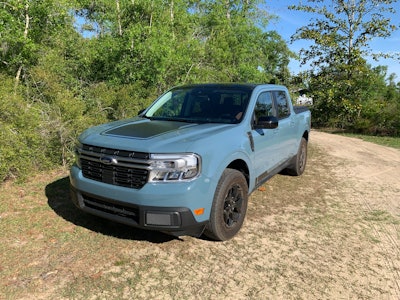 Tom Quimby
Ford Maverick pickups are part of a large recall effort involving fires in certain hybrids.
Ford announced that it's recalling 2022 Ford Maverick compact trucks as well as 2020-2022 Corsair and Escape crossovers because of a fire risk in the engine compartment.
All 100,689 vehicles affected by recall 22S47 in the U.S. are equipped with 2.5-liter hybrid electric and plug-in hybrid engines.
[Related: Max towing in Ford Maverick comes easy]
Ford states that following "engine failure, significant quantities of engine oil and/or fuel vapor may be released into the under-hood environment and may migrate to and/or accumulate near ignition sources resulting in potential under hood fire, localized melting of components, or smoke."
Isolated manufacturing issues have resulted in 2.5L HEV/PHEV engine failures involving engine block or oil pan breach. No accidents or injuries have been reported.
For any vehicles sold outside the U.S., Ford is working with agencies in other markets per local regulations.  
Dealers have been notified. Customers will be notified Aug. 8. Dealers will modify the Under Engine Shield and Active Grille Shutter to help lower the risk of fire.