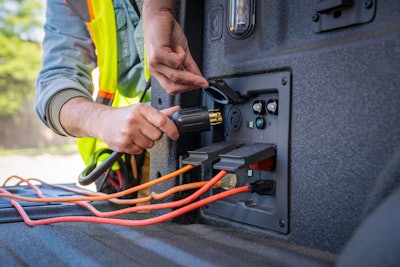 Ford F-150 pickups equipped with generators are getting a lot more attention following multi-state power disruptions brought on by extreme winter weather.
As millions of homes and businesses in the U.S., most of them in Texas, lost power this month, generator sales surged around the country and along the way and Ford's new generators available in its F-150 trucks have been swept up in the power-hungry wave.
"Interest in F-150 is up about 18 percent online since last Thursday," said Ford North America product communications manager Mike Levine.
Last week headlines rang out across the country about Texas residents turning to their generator-equipped F-150s to restore vital power in unusually frigid and deadly weather which has claimed the lives of at least 57 Texans according to The Washington Post.
The news caught the attention of Ford CEO Jim Farley who Tweeted, "The situation in the SW US is so difficult. Wish everyone in Texas had a new F-150 with PowerBoost onboard generator."
Ford reached out to its Texas dealers and asked them to loan their F-150s that had generators. Some dealers had already been doing just that.
"Our dealers continue to loan F-150s for work in their local communities," Levine said. "We're proud to see our customers using F-150 Pro Power Onboard to help their families and communities."
Ford F-150s can be optioned with a 2.4-kW generator which runs for 85 hours on a full tank of fuel or a 7.2-kW model which has a run time of 32 hours.
Generator manufacturer Generac has also seen increased interest in its back-up power systems. To help meet surging demand brought on by power outages and "new energy technologies," the Wisconsin-based company recently announced plans "to open a new manufacturing, assembly, and distribution operation in Trenton, South Carolina."