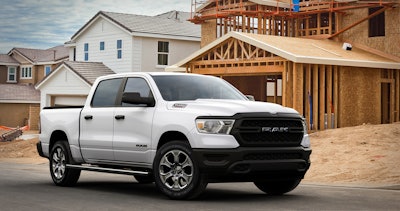 In the push for best half-ton truck fuel economy, Chevy and Ram are in a near dead-heat.
Though Chevy, Ram, GMC and Ford all offer a 3.0-liter fuel-sipping diesel engine, their mpg performances vary.
According to fueleconomy.gov, the 2021 Chevy Silverado 1500 is tops in fuel savings with an inline 6-cylinder diesel that offers 23 mpg city, 27 combined and 33 mpg highway. The 2021 Ram 1500 Tradesman HFE (High Fuel Efficiency) EcoDiesel offers 23 mpg city, 26 combined and 33 mpg highway. Chevy barely edges out Ram by an additional 1 mpg in its combined rating. But a win is a win. Or is it?
Ram offers the best range on full tank of fuel in a half-ton pickup which amounts to 1,000 miles. That means less time at the pump which some would argue is worth the negligible loss of 1 mpg combined.
Whatever the case, with a close call like that you have to wonder if one of the drivers at the U.S. Environmental Protection Agency testing the Ram had a big lunch and a couple of Big Gulps along the way.
Seriously, that's so close that any minor differences in vehicle weight and aero could have brought the Ram right up to the Chevy on the combined mpg rating. Otherwise, they're equal on city and highway mpg and that's arguably what most buyers consider when it comes to fuel economy.
Third place in the fuel economy battle goes to the 2021 GMC Sierra 1500 diesel with 23/26/30 mpg and fourth place goes to the 2021 Ford F-150 diesel with 20/23/27 mpg.
The 2021 Ram 1500 EcoDiesel HFE is tops in torque among its diesel counterparts with 480 foot pounds and delivers best-in-class max towing of 12,560 pounds. With 260 horsepower, the Ram takes second place to the diesel Silverado which delivers 277 horses but less torque than the Ram at 460 lb.-ft. Max towing for the Silverado is a distant third among the four competitors at 9,500 lbs. The GMC Sierra, which has the same inline 6 diesel engine as the Silverado, shares the same horsepower and torque rating but has the lowest max tow rating of all four diesel half-tons at 9,300 pounds.
The 2021 Ford F-150 diesel is the least powerful of the bunch with 250 horsepower and 440 lb.-ft. torque. However, those lower numbers haven't impacted its towing strength which maxes out at 11,500 lbs., or second to the Ram.
What stands out in fuel economy analysis is that life outside of lab testing on a dynamometer, which is how EPA determines its findings, will vary greatly which likely means there are going to be days when Ram will best Chevy in fuel savings and vice versa.
EPA offers the following statement to clarify that point:
EPA fuel economy estimates are based on standardized tests designed to reflect "typical" driving conditions and driver behavior, but several factors can affect MPG significantly:
How & where you drive
Vehicle condition & maintenance
Fuel variations
Vehicle variations
Engine break-in