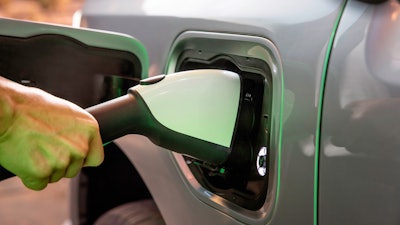 Ford
While fast seems to be the key word in acquiring stature, wealth and hot donuts, it should be used cautiously when it comes to electric vehicle charging.
As more and more light, medium and heavy-duty electric commercial vehicles emerge into view, DC fast-chargers are tagging along for the ride and giving the impression that fast-charging is the way to go. It's not. At least not all the time.
The University of Michigan battery lab told HWT's sister publication, Commercial Carrier Journal, that overnight AC charging is preferred to minimize battery degradation.
"Fast charging definitely puts a strain on current-generation batteries," said Greg Less, technical director for the University of Michigan's battery lab. "There are research projects at the University of Michigan that have shown that it can be done safely as well, but that's not currently available to the broader fleet."
Occasional fast-charging is okay, but much like red-lining an internal combustion engine, you don't really want to do it that often, Less said.
With its recent all-electric F-150 Lightning reveal, Ford weighed in on DC fast-charging. Both variants of the truck come with overnight AC chargers.
The 230-mile Lightning gets a complimentary 32-amp, 120/240-volt Ford Mobile Charger, while the 300-mile version includes an 80-amp, 240-volt "Ford Charge Station Pro which, when combined with the included onboard dual chargers, enables affordable Level 2 overnight charging using battery-friendly AC power – negating the need for expensive DC power installation."
Battery-friendly AC power. That's all Ford has to say on the subject in the press release but that's enough.
Marketing can sometimes be the tail wagging the dog—because fast-charging does sound good—like fast pizza deliveries, fast download speeds and fast tax refunds. But it's not always the case for EVs.
The other incentive that makes slow, overnight AC charging more appealing is the lower cost. Remember, Ford Lightning and Rivian's R1T electric pickup, for that matter, come with AC charging equipment. Acquiring a DC fast-charger can add thousands to the price tag. Plus the power requirements may entail costly utility work. Also, there's the question of needed space—yes, more space.
"Faster charging equipment is usually much more expensive and it typically requires more space on the site," said Chanel Parson, Southern California Edison's principal manager of transportation electrification operations.
"You'll have to weigh, 'Do I want to pay this extra money and do I want to give up this extra space on my site for something I may or may not need in the future?' Really, it's what's most suitable for your needs and the lowest charging power that's needed," Parson continued.
Solid advice. Though OEMs won't necessarily shout it from the rooftops, plugging into zero emissions and the serious TCO savings that come with it is best delivered with a slow, overnight AC charge. After all, a battery's days are numbered and hitting it frequently with DC fast-charging will only hasten its demise.