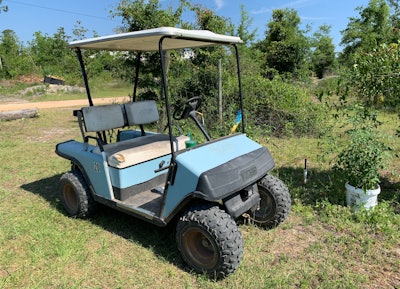 Tom Quimby
I've worked on my own vehicles since, well, I had my first vehicle—a 1969 Yamaha 60 Mini Enduro. The Yamaha was actually a great introduction to internal combustion and supporting mechanisms, in this case, a baffling clutch pack (hey, I was 12), suspension and drum brakes.
My interest in IC, or internal combustion, grew. It wasn't long before I found myself porting the head on my 1969 Yamaha 125 Trail AT1. While a Dremel Moto-Tool can work wonders on a head, it can't get you out of a jam with your mother after using her kitchen sink for a parts basin. I swear I was only using Dawn detergent to wash away some carburetor cleaner off the head but that smell...no range hood or window could touch it.
Like countless others, I've got plenty of lawnmower, car, truck, boat and motorcycle repair and maintenance stories.
[Related: Hino partners with Israeli startup to build versatile electric truck platform]
And recently I've started an unwritten journal on a 1994 EZGo Marathon golf cart that I added to my small fleet. The first thing I noticed? Besides batteries, there's just not much that can go wrong with this 36-volt go-getter.
Since the cart's lead-acid batteries were worn out, I swapped them out with six new ones. Because corrosion had taken a toll on some of the battery cables, I replaced those too.
The battery cradle had some rust so I prepped the metal surface for painting and coated it with black Rust-Oleum enamel.
I disassembled a light switch, cleaned up the fouled contact points, put it back together, tested it for continuity and reinstalled it. Now it works fine on a new LED headlight that I mounted in the front.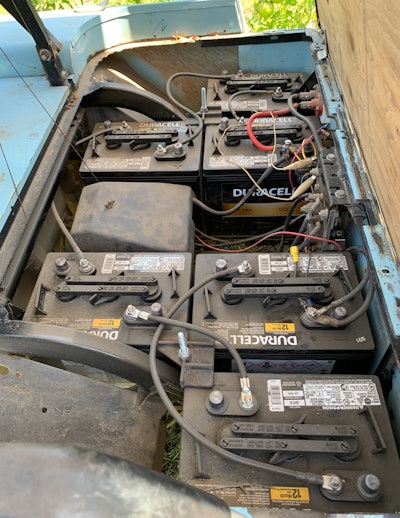 The drum brakes in the rear are fine and I'm guessing are probably original. Otherwise, that's it. The cart's buzzing around nicely on the property. I didn't have to battle a finicky carburetor, test for resistance on an ignition coil, check for spark, check for compression or check fluids.
I was so impressed with how easy it was to get this thing up to snuff that I called my kids out to briefly (okay, I say briefly—they would probably say an eternity) walk them through how easy it is to maintain an electric vehicle. Keeping up with fluid levels in those six-volt batteries, I told them, is really the biggest concern.
Granted, today's electric vehicles are much more complex, but then again, so are the latest IC vehicles. One thing that hasn't changed is the great maintenance divide—electric vehicles still require far less maintenance than IC.
Go back and watch the November reveal for Ford's electric E-Transit. An eye-opening moment comes when Ford CEO Jim Farley says that their electric van will cost roughly 40% less to maintain than conventional IC. Plus, the odds for a break down are reduced.
Electrical vehicles have far less parts and in the case of the E-Transit that amounts to "nearly 90% fewer parts in its propulsion system alone reducing the potential for expensive repairs," Farley added.
On Monday, Ford announced that their all-electric F-150 Lightning Pro will also cost about 40% less to maintain than conventional. The starting price of the electrified SuperCrew is $39,974, which is only about $3K more than the 2021 F-150 XL SuperCrew equipped with a 3.3-liter V6. An overnight charger comes with the truck—and overnight charging is preferred, according to what the University of Michigan battery technical center told HWT's sister publication Commercial Carrier Journal. Frequent DC fast-charging will break down the battery pack faster. Much like red-lining IC, UM battery lab technical director Greg Less explained, you really want to avoid fast-charging but occasional use is okay.
But then there's the issue of range—which of course makes a big difference if you're traveling beyond the 230- or 300-mile range limits of either Lightning Pro.
The Detroit News reported Tuesday that range anxiety was keeping one fleet owner away from the electric F-150. That's understandable if a driver strays beyond the range limit during a daily shift. However, Ford said this week that most fleet drivers will not based on driving data.
"More than 145 million miles of telematics data show that for the average F-150 commercial customer in the U.S., 95% of their daily travel is less than 174 miles," said Ted Cannis, general manager, Ford North America commercial business. "Commercial customers track their business expenses closely – they buy what they need and not a penny more."
[Related: Ford reveals all-electric 2022 F-150 Lightning under $40K]
Max towing with either the 230- or 300-mile Lightning Pro (5K and 10K, respectively) will probably cut range in half based on what Rivian's reported on its R1T which is set to roll out next month. Loading the truck down to its 2,000 lb. max payload will also chip away at range faster. Whatever the workload, Ford's Intelligent Range system will determine range based on payload and towing demands.
In short, if fleet drivers can stay within range limitations during daily driving, then the Lightning and other electric vehicles can make good sense.
Increasing fuel costs are another consideration. AAA reported on Sunday that the average price of fuel at the pump had jumped 51% over last year. The cost per kWh for commercial electric had only increased 15% from February 2020 to February 2021. Obviously, the price of electricity can—and probably will—increase as more EVs hit the road.
[Related: Chevy's electric Silverado fleet truck will offer up to 400-mile range]
Despite how impressed I am with my golf cart, I'm not racing out to buy an electric truck or car. I'll sometimes hit the road in big family trips. Even with DC fast-charging—and I'm not a fan—it could take around 40 minutes to take Lightning from a 15% state of charge to 80%. But who fills their gas tank up to 80% capacity in 40 minutes on road trips? Exactly.
Again, if your daily driving requirements can keep an EV within its range limit, then it can add up to some serious savings and much less time in the shop. However, I certainly wouldn't swap out my entire fleet for electric. Life is just too unpredictable for that. One power outage brought on by a storm or some other event could cripple an EV fleet. At that point, zero emission EVs will render zero results.