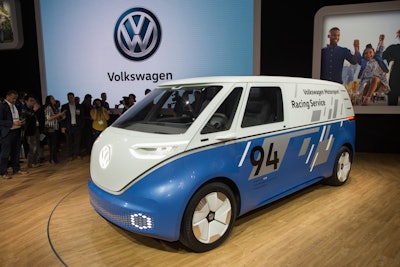 Our family had a Volkswagen Super Beetle in the '70s and '80s in Southern California.
It was a fun car: lime green, fuel injected, four speed manual, cool frunk, strangely inviting vinyl interior scent, hand crank front windows and pop-out windows in the rear. No A/C, but then again we really didn't need it in Southern California.
When I think about Volkswagen, that Beetle comes to mind, and I'm sure plenty of others around the globe also have their Beetle stories to share.
I also recall an emissions story. While crammed in a small apartment at college in the '90s I had read an article about how the Beetle was taking a beating in Mexico City because of emissions.
The long-lived Vocho, as it's known South of the Border, had found immense popularity as a taxi and was now being slammed as a gross polluter. It was the first time I had been told about a particular vehicle model being singled out for causing poor air quality for an entire city. In Southern California we had heard stories at school about acid rain being linked to various industry and transportation sources—but one car getting the bulk of the blame? Talk about a tough break.
Then came Dieselgate right at the time that I started writing at Hard Working Trucks in 2015. Volkswagen was ordered by a U.S. federal court to pay $2.8 billion in fines for equipping their diesel cars with emissions defeat devices. Dark days for sure.
Roughly one year later after getting hit with that huge fine, I caught up with Scott Keogh, Volkswagen North America CEO and President, at the LA Auto Show in 2018 where he had introduced the company's all-electric ID Buzz Cargo Concept van (shown above.)
VW was now getting headlines for its huge zero-emissions commitment. The company had announced that it would be investing $38 billion in EV technology which included building 16 EV factories around the world and launching no fewer than 50 EV models by 2025. Fifty models…that's pretty amazing.
Keogh still stands out for me as one of the most passionate, confident and informed OEM sources on EV technology. He didn't miss a beat on any of my questions. From electric pickups (none of the established OEMs had announced a model at that time) to EV battery recycling (his was the most informed and sensible response yet) and new diesel technology, Keogh didn't flinch.
Though surrounded by the latest EV tech at VW's booth, I had to ask that last question because prior to Dieselgate, VW had long-produced reliable oil burners with impressive fuel economy. But Keogh made it clear that they were moving on even after I brought up how Achates in San Diego, Calif. had reported impressive gains on its near-zero emissions two-stroke diesel.
"I think for us and where the regulations are and everything else, I don't see it here in America," he said. "Our point of view, there's still a lot of work that can be done with the internal combustion engine. You always make them more efficient, lightweight and everything else and then all in on electric."
When it came to clectrifying larger pickups, which Keogh pointed out were mostly commercial, that would be a challenge.
"For longer term, it's going to happen," he said. "I have no doubts. It's a smart concept. A smart idea."
Two years later, and Volkwagen's commercial truck subsidiary, Traton, announced that it had acquired Navistar for close to $3.7 billion. Astute readers may recall that in the fall of 2019 Traton announced its goal to become a leading producer of electric trucks and buses in Europe. Around that same time, Navistar revealed its electric International MV medium-duty truck at the North American Commercial Vehicle Show. Navistar built the truck in partnership with Traton. The truck is scheduled to roll out in early 2022.
It was no secret that VW had been pursuing Navistar for a while. What's been more behind the scenes however is VW's involvement with QuantumScape, a battery start-up in California that recently announced that it had successfully developed a solid-state lithium-metal battery. Why is this important? Unlike conventional lithium-ion, QuantumScape's solid state battery is non-flammable, stores more energy for greater range, costs less to produce and can be charged in 15 minutes. VW partnered with QuantumScape in June of 2018.
Bill Gates, a big investor in QuantumScape, recently lauded the company for its progress in solid-state technololgy. However, he did not endorse the use of battery-powered long-haul rigs.
"Electricity works when you need to cover short distances, but we need a different solution for heavy, long-haul vehicles," Gates writes in his blog posted on gatesnotes.com.
That's where a growing number of insiders, Cummins included, believes that Class 8 fuel cells can save the day with longer range and much faster refueling (around 15 minutes). Is VW headed there next? Quite possibly. Today, Volkswagen announced that Traton would be developing fuel cell trucks alongside Hino, Toyota's truck arm. Toyota has been busy working with Kenworth in Southern California on testing Class 8 fuel cell T-880s powered by fuel cells used in in the Toyota Mirai passenger car. Is there room for a Class 8 Traton or Navistar fuel cell truck? Why not? Suddenly Dieselgate and Vocho seem so long ago.