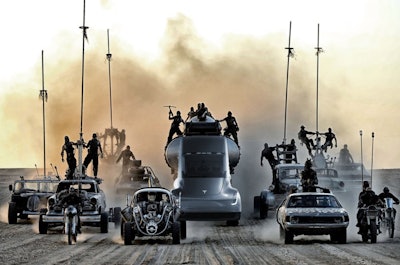 Strange days indeed.
It wasn't that long ago that Elon Musk tweeted that he was a socialist.
Keep in mind that he posted that while he was very much the golden child of California and riding wave after wave of federal and state subsidies to support the production of Teslas that he and his supporters have long said will save the planet from internal combustion engines.
In those halcyon days, then-Governor Jerry Brown advocated for a ban on IC tech and rolled out the red carpet for Class 1 – 8 Chinese EV manufacturing giant BYD to set up shop in the Golden State, which they did and have since expanded their footprint. Not much of a surprise considering that they're the largest EV manufacturer in the world.
Now, nearly two months after COVID has hit the fan, it looks like Musk has changed horses and is taking a much more capitalist/Braveheart approach to life—or is it just a temporary indulgence for business sake? After all, while Uncle Sam's coffers might still be tipping in his favor, that mean 'ol uncle won't let him run things his way.
"FREE AMERICA NOW!" Musk tweeted on April 29 out of frustration that he and millions of others around the country are feeling in response to ongoing shelter-in-place directives that have brought businesses across the globe to a standstill including his auto factory in California.
Musk's barrage of tweets condemning COVID shut-downs while calling for a resurgence in economic activity have attracted praise from libertarians and conservatives alike.
"The scariest thing about this pandemic is not the virus itself, it's seeing American so easily bow down & give up their blood bought freedom to corrupt politicians who promise them safety," @TheRightMelissa tweeted in response to Musk's earnest plea for liberty. (Her comment has so far received 38.8K likes).
"True," Musk tweeted back which has 26.2K likes.
The thread continues and reveals a Musk 2.0 that will be interesting to watch in the days ahead.
"Elon, you are LOSING followers and respect by the second," @randyfineto posted which has received at 7.1K likes.
Cue the shrugging Musk with 33.6 million followers and a giant Forbes-listed net worth of $38.9 billion.
"Bon voyage," he tweeted back which scored at least 21.4K likes.
Musk also attracted the attention of conservative columnist and editor Cheryl Chumley at The Washington Times who wrote:
Who knew Elon Musk, of Tesla CEO fame, would emerge such a freedom-loving hero from this COVID-19 disaster called Government Overreach — but he has.
In an epic earnings telephone rant, Musk called out the "fascist" social distancing measures ordered by government.
And then he said, as CBS News noted: "If somebody wants to stay in their house, that's great. They can stay in their house and they should not be compelled to leave. But to say that they cannot leave their house and they will be arrested if they do — this is fascist. This is not democratic. This is not freedom. Give people back their g—d— freedom."
Tesla has butt heads with California Governor Gavin Newsom whose tough stance on social distancing policies includes his recent and controversial move to shut down California beaches after seeing folks flocking to that coveted coastline for some much-needed R&R.
Though Musk has pushed back against Newsom and other pols for COVID lockdowns, don't expect to see him doing donuts on the beach in Cybertruck anytime soon. He has his limits. Sort of. Who knows? He may Tweet an anime version of Cybertruck kicking up a huge rooster tail of sand into the face of a fist-shaking Newsom. That alone would send auto and political reporters into a frenzy. And diversions are nice at a time when Tesla announced a second delay for its Semi. Expect to see the Class 8 tractor rolling out in 2021 long after Musk has sold most of his possessions—wait?! What?!
Yes, media master Musk tweeted that he's going to sell most of his possessions. (He later tweeted that the news upset his girlfriend. D'oh!) He's since placed two massive homes on the market in California. When questioned on Twitter as to why he's ditching his Xanadu abodes, Musk responded with one simple but profound word, "Freedom."
By nixing his homes, Musk kisses off those property taxes which may not be a big deal to a billionaire, but it's definitely significant—significant in the sense that he's cutting cords to the very state that has supported him for such a long time, at least up until COVID.
Now he's livid that he's been shackled by the very same political forces that have long stoked the EV movement with heaps and heaps of tax revenue. Will Musk continue to stomp his feet, snatch up his big bag of marbles and move on elsewhere? I certainly won't be surprised if he does.
Musk's latest chess moves may compel Newsom and others to see things his way. Or maybe not. After all, EVs have moved into the mainstream where major automakers all around the world are adding battery-powered vehicles to their lineup. Choices are expanding at a fast rate. Besides that, California still has BYD–or is it the other way around?
Whatever Musk's next move, I'm not expecting him to tweet Reagan one-liners anytime soon. This is a sit and wait game where actions will speak louder than tweets.