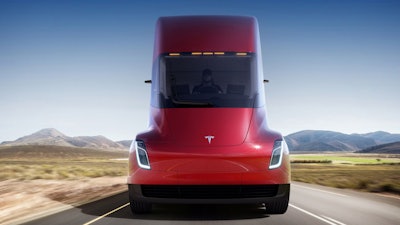 When Tesla debuted its Semi in late 2017, it got the same rock spectacle unveiling as the company's flashier consumer products. Loud music. Lights. Tesla CEO Elon Musk whipping the crowd into a frenzy with promises of other-worldly power, torque and 0-60 times.
Then, moments later, Tesla's second generation Roadster rocketed across the company's Hawthorne, Calif., design center and a crowd of thousands – mostly Tesla owners, VIPs and some media – lost their collective mind. Like Steven Tyler walked into the building carrying Mick Jagger on his shoulders and passing out vouchers for Pappy Van Winkle.
Once Musk concluded his remarks, the masses of people were welcomed to get closer to the truck and the supercar. Semi made for a cool photo-op but the Roadster 2 had already stolen its thunder, and the Semi has been leaking thunder ever since.
In the months since November 2017, official updates on the Semi have been few. Updates on the Gen2 Roadster have been even fewer. The expected production date for the company's Class 8 has already been shifted from this year to next, and since the March unveiling of Model Y, Tesla's compact crossover has become the new EV darling.
During Tesla's earnings call Wednesday, the Semi was mentioned only once.
"… the story for Tesla in the future is, fundamentally, Model 3 and Model Y," said Musk. "And then you could throw like a truck in there – pickup truck and a Semi – but [Model S and Model X volume] just gets smaller and smaller. [Model S and Model X] are great products but they're, from a volume standpoint, they're not all that important in the long-term."
That in and of itself is not all that surprising. When you consider the volume Cascadia occupies of the overall number of vehicles Daimler sells in a year, the on-highway market leader is a small fish in a large pond. But Musk's latest comment on volume feels like somewhat of a reversal from February 2018 when he said orders of 100,000 Semis a year by 2022 was "a reasonable expectation." Last year, Tesla delivered just more than 245,000 vehicles – about 146,000 Model 3 and nearly 100,000 Model S and Model X. If Tesla hits the 100,000 mark, Semi sales would be comparable to the combined current levels of two of its passenger models.
Tesla production and delivery numbers are soaring this year versus last. Its delivered about 158,000 cars in the first six months this year and expects to close the year near 400,000. But 100,000 Semi units would still make up a sizable portion of deliveries, even if you allow for significant automotive growth over the next two model years.
The company hasn't confirmed order figures for the Semi in more than a year and has declined to provide them every time I have asked, including Thursday. Last May Musk pegged the figure at "about 2,000" units with UPS, FedEx, PepsiCo, Anheuser-Busch, J.B. Hunt and Walmart among the carriers with Semis on reserve.
A passing mention on an investor's call doesn't necessarily spell trouble and the project is still in motion as far as we know. Tesla has been using its Semi to shuttle around some of its autos and Automotive President Jerome Guillen noted in April, "We are very happy with driving the trucks extensively with, I think, so far quite amazing success."
But, I've yet to speak to a fleet contact with a Semi on order that has much more information about the truck than what I've written here.
Tesla continues to post negative revenue figures (the company lost $408 million in the past three months despite record numbers of car builds and deliveries), and has lost $1 billion this fiscal year with six more months to go.
What does all that mean for an already-delayed electric Class 8 with a potential sales target comparable to two models that don't figure to be "all that important in the long-term?" My guess is nothing good.