The will-they-or-won't-they debate over Jeep's supposed intentions of eventually rolling out a pickup model is one of the more entertaining debates on Jeep and Chrysler Internet forums.
Jeep does little to squash speculation, of course, by trotting out pickup concept after pickup concept seemingly every year.
"Almost on a bet we made a truck out of the Renegade" says Mark Allen – Jeep Commanche concept #EJS2016 pic.twitter.com/MQbhtd4MYq

— KathyatChrysler (@KathyatChrysler) March 10, 2016
Thursday, Jeep showcased seven concepts it plans to showcase at the 50th Easter Jeep Safari in Moab, Utah. Easter Jeep Safari is an annual gathering for Jeep enthusiasts held in one of the most renowned rock-crawling sites in the U.S.
Thursday's unveiling included a Hellcat-inspired Jeep and other models that saw standard Jeep models get a little (okay, a lot) of extra juice. But what fun would a Chrysler concept reveal be without trolling Jeep loyalists who clamor for a pickup?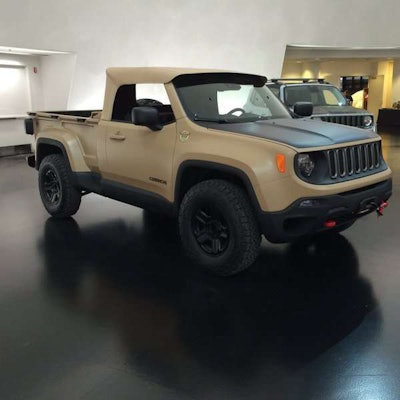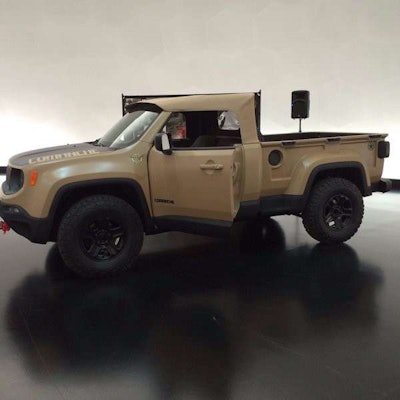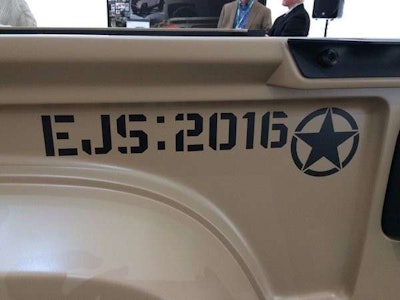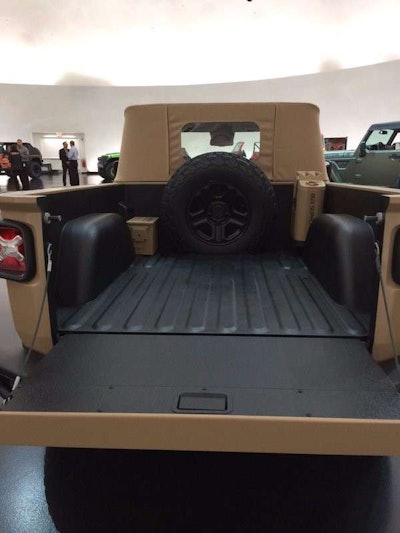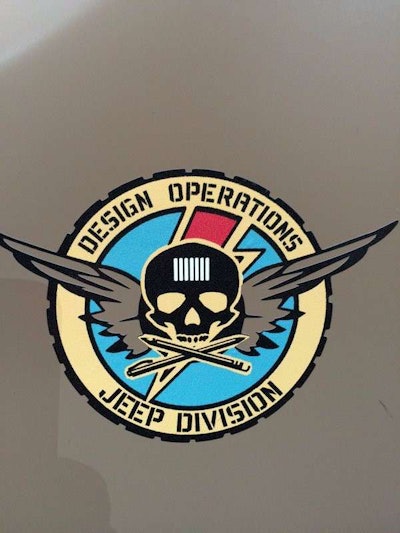 The soft-top Renegade-inspired Comanche gets a 2 liter inline 4-cylinder diesel engine and nine-speed transmission with selectable terrain controls, and 2-inch lift gives the 16-inch painted wheels and 32-inch BF Goodrich A/T tires room to roll.
And that sandy brown color that looks like something that could be chasing ISIS across the Afghan Dessert is called "Beige Against the Machine."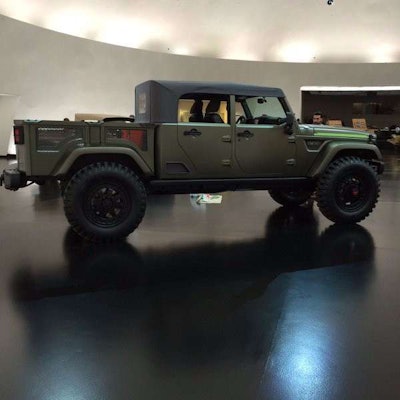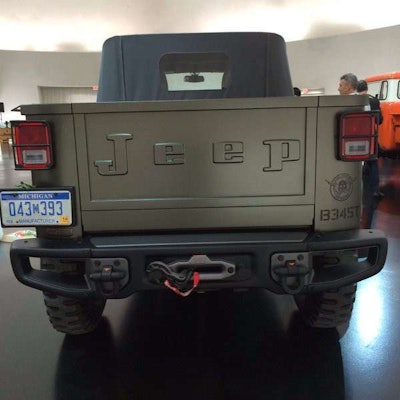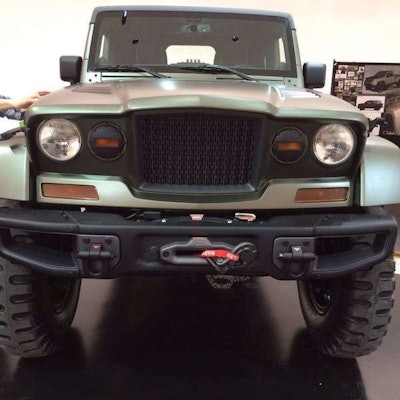 Jeep's Crew Chief 715 is based on an open-air Wrangler Unlimited, and gets the 3.6-liter Pentastar V-6 gasser with a five speed automatic. The Crew Chief 715 utilizes modern-day construction with a rear seat and extra doors for additional passenger capacity while staying close to its classic military roots.
This tactical green painted concept clad with steel front and rear bumpers is clearly a nod to Jeep's military heritage – in particular the Kaiser M715 – with its 20-inch beadlock wheels and 40-inch non-directional military tires. The unit also gets a 4-inch lift.
The Crew Chief 715 utilizes an on-board air system with a hard-mounted quick-disconnect fitting for airing up or lending assistance to other vehicles on the trail. Other features include a master cylinder brake upgrade, cold air intake and a modified exhaust.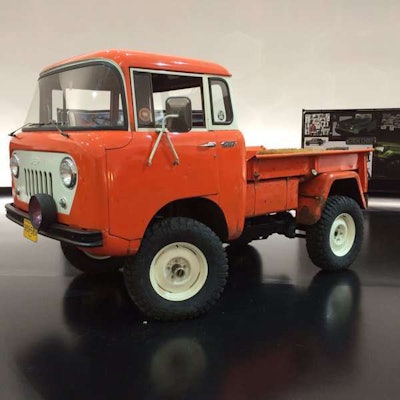 It doesn't get much more throwback than this.
Technically not even a concept, Jeep's FC 150 is actually a old '60s FC 150 body built on a 2005 Jeep Wrangler chassis. It's been upfit with a Dana 44 front axle and a Dana 60 rear axle. The 17-inch steel wheels each get a 33-inch BF-Goodrich Mud-Terrain T/A KM2 tire.
Inside, the FC 150 features vinyl seat covers, a custom headliner wrapped in a vintage duck hunting pattern, CB radio, analog compass and Mopar all-weather mats.
Under the hood you'll find a 4-liter inline 6 strapped to a 3-speed automatic transmission.
Sounds like a good time will be had by all at the Easter Jeep Safari and maybe on the Jeep forums, too.