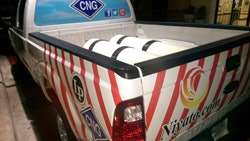 Millions of dollars have been spent chasing viable bi-fuel technologies, usually some kind of marriage of CNG, propane and/or gasoline.
Niyato Industries Inc., recently launched a system that it says can use all three – the first-ever Tri-Fuel system the company installed on a Ford F-350 4X4.
The developmental vehicle is currently undergoing testing by Keith Thompson, head of Niyato Industries' calibration and system design team.
The propane application needs only a different tank for propane storage and a vaporizer, which can be ordered when the retrofit facility makes its order based on the fleet operator's original purchase order agreement.
EPA and CARB certifications cover all weight configurations for the Ford's 6.2 liter gas engine.
With gas prices hovering near lows not seen since in the past decade, alternative fuels have fallen out of favor. That's not to say they're not viable, just that they're more appealing when filling up your F-350 hits your wallet to the tune of $100. That jump is a litter harder to make for $60 when you're sitting on empty.
It's also not going to be easy to wrestle payload capacity and bed space away from Super Duty owners.
Niyato Industries' innovation is interesting but seems to be more a novelty and an exercise in what is possible that a practical upfit for heavy duty pickup owners wanting to reduce their carbon footprint.