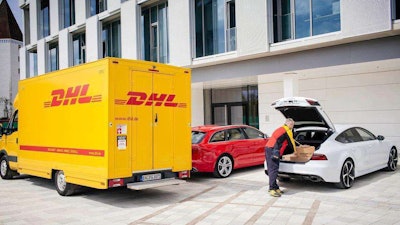 Missing a delivery can be frustrating, especially after several failed attempts because you risk your package being held hostage at a logistics facility that is woefully inconvenient to your work/life schedule.
The next step in home delivery may take the hassle of missing the delivery man out of consideration, if not eliminate it completely.
Audi is partnering with DHL Parcel and Amazon Prime to develop a logistics service that would ship parcels directly to the car's trunk. A pilot project starting next month will allow participants to use the service for the first time in Munich, Germany.
Audi says the feature will operate through temporary authorization for keyless access to the car's luggage compartment.
Audi owners will have agree to the tracking of their automobile for the specific delivery time frame. The DHL driver handling the parcel will receive a digital access code for the trunk of the customer's vehicle, which can be used one time only for a specific period of time and expires as soon as the luggage compartment has been closed again.
In the future, the new service is likely to provide customers with the option of entering their Audi as the shipping address for online orders. DHL Parcel is providing the dispatching service in the pilot project. Development partner Amazon is the first online retailer to offer customers delivery directly to their car's trunk.
I'm old enough to remember when home delivery meant delivery to your home.
Innovations are supposed to make lives easier but in this case, delivery to unoccupied vehicle by a stranger just seems creepy.