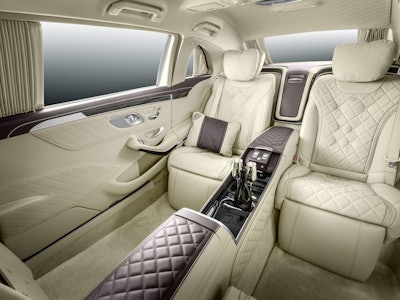 I've got a pretty cool job.
I spend most of my day belt buckle deep in truck stuff; from tires to oils to engines and everything else bumper to bumper.
I get tons, and I mean TONS, of press releases daily. New radiator hoses, springs, tires, you name it. But I got one yesterday so interesting that I simply had to publish it, even though if there were a literal opposite of a pickup, this would be it.
Mercedes is celebrating the 50th birthday of its Pullman 600 sedan – the gold standard for insane wealth and the hallmark of an unhealthy obsession for the uber-premium – by launching an even more luxury trim level.
The Mercedes-Maybach Pullman is 21.3 feet long. That's an extra 3.5 feet over the Mayback S-Class, giving the car a 14-foot wheelbase that is longer than most Ford Super Duty pickups. According to the press release from Mercedes those extra 3-plus feet are necessary to provide "space for a generously-sized and tastefully-appointed club lounge in the rear."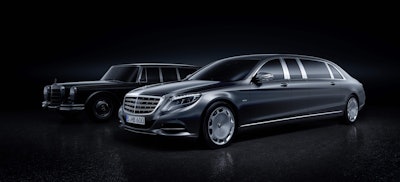 Of course! A tastefully-appointed club lounge.
There's a full paragraph dedicated just to the seats, which have independent adjustment systems for the backrest, the cushion and calf support. Yes, calf support. The improvement in seating is "a real boost in comfort for those heads of state and monarchs for whom protocol dictates that they must take their places ahead of their interpreters," according to Mercedes' release.
The prices for un-armoured models start at around $566,922. Your local Benz dealership may consider 10 or more brand new Ford Super Duty F-350 Platinum pickups on a trade. Maybe.
If you need your Maybach Pullman blast/bulletproof, that's going to set you back a little something closer to $1 million.
The absolute top-of-the-range model is the Mercedes-Maybach Pullman S 600. Its V12 bi-turbo engine has an output of 523 horsepower with a maximum torque of 612 lb-ft from 1900 rpm.
I'm not sure Hard Working Trucks will get a media invite for a test drive, but if they're looking for some test riders for the most luxury chauffeur-driven limousine known to mankind, I'm raising my hand, Mercedes.