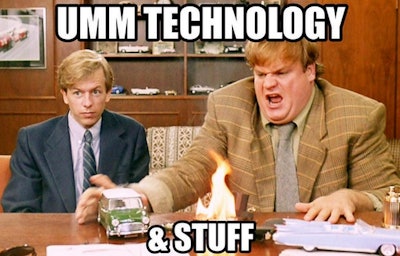 Rikk Wilde is the star that shouldn't have been. Madison Bumgarner was a superhero in World Series but Rikk Wilde stole his thunder on baseball's biggest stage in a major way.
Rikk is a middle manager at General Motors who, somehow, was charged with handing over the keys to a free Chevy Colorado pickup – the grand prize for being named Series MVP – to the Giants' Bumgarner.
All he had to do was not flub it. And he flubbed it. Fantastically.
It almost seems fitting that Wilde dropped the ball. The Colorado underwent a recall before it ever got to the dealership.
But Wilde's genuine nervousness was endearing. Rikk looks like a likable guy who was thrust into an impossible position; to be calm, cool and collected in front of 3 million people. I'm pretty sure I could be attacked by a bear in an alligator pit and not be as nervous as Rikk Wilde was for his 90 seconds on television.
And thus, "technology and stuff" was born.
#Technologyandstuff actually trended briefly on Twitter immediately following the World Series, and ESPN business analyst Darren Rovell estimated Wilde's gaffe was worth nearly $2 million in free buzz to Chevrolet following the presentation.
Chevy's actually embraced it, and has worked "technology and stuff" into its branding and marketing for the truck. It's also made Wilde sort of an accidental viral sensation, which he seems to be enjoying. It even got him on Letterman.
Normally doing a presentation, I would have been fine, but @ErinAndrews was standing right there, and she is super hot and distracting.

— Rikk Wilde (@RikkWilde) October 30, 2014
.@michaelsheehan1 nobody else in the suite wanted to present the truck to a SFGiants player. I was low man on the totem pole tonight. . .

— Rikk Wilde (@RikkWilde) October 30, 2014
Ram jumped to center stage at Wednesday night's Country Music Awards with country singer Miranda Lambert, who picked up a few key awards including the industry's top female artist. Ram Trucks have partnered with noted dog lover Lamber to auction a customized Ram Laramie Longhorn to benefit Lambert's MuttNation Foundation.

As part of the partnership (which is expected to evolve in 2015), Ram has given Lambert a customized Ram 1500 Laramie Longhorn which she is auctioning off to benefit her MuttNation Foundation, a donation-supported 501(c)(3) foundation whose purpose is to better the lives for shelter animals.
The auction began Nov. 5 and runs through November 15. In addition to the Ram 1500 Laramie Longhorn, fans can also bid on other special items including signed copies of Lambert's "Platinum" CD, signed guitars and tickets to one of Miranda Lambert's concerts in 2015, including a pre-show cocktail with her.
Considering the marketing buzz Jimmy Fallon created earlier this year with his search for a pickup (which Ford ultimately won), it looks like pickup makers are enjoying some time in the sun after the sun goes down on primetime television.