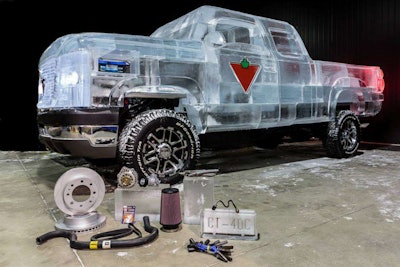 You've seen the show Ice Road Truckers, right?
Pretty cool show; a series about truckers who haul mega-tons of equipment over a road of frozen water. Lots of drama; the ice may crack and the truck could sink, and it's a race against both nature and time. Not to mention it's dang cold in the Arctic Circle.
But the whole time, as the drivers battle the elements and each other, the truckers are tucked away in their cabs with the heat on full blast.
Scoffing at the idea of in-cabin heating and insulation, Canadian Tire – kind of a Canadian AutoZone – took the road out of ice road trucking.
[youtube HKooAaVZMbY nolink]
Trading their wrenches, sockets and dent pullers for chainsaws, ice picks and torches, the team took a truck chassis and installed body panels of more than 11,000 pounds of ice in a fantastically awesome, if not somewhat over-the-top, commercial showcasing its MotoMaster battery, which they claim will cold-start at 40 degrees below freezing. I'm sold. I believe them.
[youtube 3i_bsfwPE1s&list=PL1OWopmxBAONZ09iDkrcAjH7NEDSbf2pL nolink]
Aside from selling batteries, the Canadian Tire Ice Truck attempted to set a world record for being the first self-propelled ice creation to actually drive.
Complete with working head lights and tail lights and an icicle air-freshener, not only did the Ice Truck drive, but it travelled nearly a mile in its record-setting attempt at a blistering pace of 12 miles per hour.
The truck used to be a 2005 Silverado before it was outfitted with a modified steel frame…and covered in ice, of course.
As you may notice in one of the videos, which was edited in reverse time-lapse, the truck has since been melted – a disposal process Canadian Tire says took 40 hours.
[youtube oolRK9QMfqI&list=PL1OWopmxBAONZ09iDkrcAjH7NEDSbf2pL nolink]