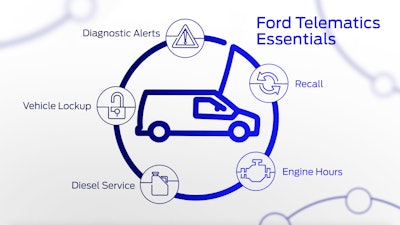 Ford
Ford Telematics announced at the virtual 2021 Work Truck Show this week that it's expanding its telematics services to non-Ford vehicles.
A plug-in device enables connectivity through the OBD II port with most other vehicle makes. Ford's wiring harness allows for an additional OBD II connection if needed.
"Now you can gain clear, easy to access insights from Ford Telematics across your entire fleet regardless of make," said Alex Purdy, head of business operations for Ford Enterprise Connectivity. "Based on our work with customers, we're also adding new products to help drive productivity in your operations."
Purdy went on to explain that Ford Telematics services will include vehicle health information like diagnostic trouble codes, recalls, engine hours "and diesel signals that help prevent damage to emissions equipment.
"Next, there's the driver behavior dashboard and driver score, an insightful, intuitive tool that enables fleet managers to provide targeted coaching to help improve driver behavior," Purdy continued. "Finally there are alerts. Notifications of severe incident and potential misuse of your fleet vehicles."
Severe incident notifications let fleet operators know when their drivers and vehicles have been involved in a severe incident where the airbag has been triggered. E-mail and in-app alerts can relay the driver involved, the location of the crash and the time. Vehicle misuse notifications enable managers to set operating hours and receive notifications if their vehicles are being used inappropriately during off-hours.
[Related: Telematics data shows drivers in rural states the most dangerous]
Ford also announced the launch of Ford Telematics Essentials for Ford vehicles, a complimentary service for commercial customers that is scheduled to roll out in the second quarter of 2021.
Ford Telematics Essentials provides odometer readings, diagnostic trouble code and information around oil life, engine hours and recalls. Later this year, this free service will also allow fleets to digitally track and plan maintenance or repair services with local dealers.
Ford Telematics also continues to expand its feature offerings and the amount of data it can share with fleets about their vehicles, with support for more than 3,800 diagnostic trouble codes. These codes help identify potential issues with vehicles, and are coupled with alerts that tell customers whether they should take action soon or immediately.
Further bolstering Ford's mission to improve uptime for commercial fleets is the widespread adoption of over-the-air update capability, beginning with the 2021 F-150. Vehicles equipped with this technology can receive updates and repairs wirelessly, reducing the need to visit a dealer for maintenance. These updates can be delivered in the background or scheduled by the driver at their convenience, creating another way to keep fleets up-to-date and on the road.