Levan Machine and Truck Equipment in Berks County, Penn. recently celebrated the opening of their new 8,000-square-foot truck production facility – the third production facility for the storied, family-owned business which opened its doors just a few years prior to World War II.
Demand for quick turnaround times with assembled trucks, machined and custom parts, and repair projects led to the expansion. The new building joins two other Levan production facilities nearby that total 12,000 square feet.
"We are always looking for ways to grow the business, and aside from a few product launches to make us more competitive in the truck market, we are already envisioning the next building expansion," said Brian Levan, president and CEO.
"We will also add more employees and new equipment to our machine shop so we can continue to be the go-to for custom work and emergency repairs."
Levan Machine & Truck Equipment, which has a staff of 30, could add up to eight employees because of the addition. With six truck bays, the new facility allows for up to nine vehicles to be in production simultaneously.
Growing demand for a range of custom specs, even as seemingly small as exterior toolbox placement, helped fuel the need for more truck bays.
Levan provides customers with a diverse group of products and services, which makes them a one-stop-shop. They install equipment such as service bodies, dump bodies, snowplows, spreaders, liftgates, central hydraulic systems and PTOs. They also offer general truck repair and maintenance.
Levan's machine shop offers everything from custom machining and fabricating to prototyping and completely engineered projects. From general machining to repair services to fleet management, Levan is postioned to serve customers throughout Central Pennsylvania and Maryland.
"Making sure our customers get what they need and when they need it, is what matters to us," Brian Levan said. "The industry is constantly changing and we have been fortunate enough to be able to evolve our truck division along with that change with the help of our vendor partners. Our machine shop contains both the updated technology for mass production along with the manual machines needed to perform custom jobs.
Levan continued, "There has been recent demand for lighter trucks, so with new engineering technologies, we are focusing on selling composite and aluminum products. We have developed relationships with many different vendors helping us provide everything and anything our customers want. A good portion of our counter sales have now gone to the internet, so we've opened an eBay store. Customers in need of specific parts can often find what they need through our online store."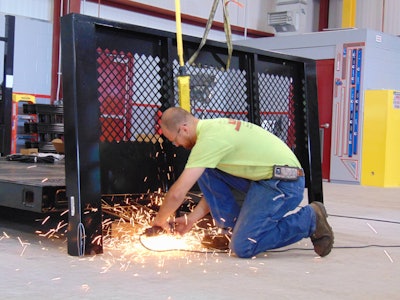 Brian Levan is the grandson of the company's founder, Walter Levan, who opened the business in 1936. During World War II, Walter Levan was drafted into the U.S. Navy, where he served as a machinist on a ship in the Pacific. While he served in the military, Brian Levan's grandmother, Sarah Levan, operated the shop, then known locally as Levan Machine Co., after learning to run the lathe to fabricate needed parts, including ones contracted by the government for the war. From 1969 to 1992, Brian Levan's parents, Carl and Janet Levan, operated the business.
Primary product lines at Levan include Knapheide Manufacturing Company, BOSS Snowplows and Ice Control Equipment, Weather Guard, Vanair Manufacturing, Sortimo by Knapheide, Spicer, Whelen, Air-Flo Manufacturing Co., Spitzlift Manufacturing and Stellar Industries.
"Our greatest opportunity for growth continues to be the truck upfit market. We had to expand our service area and customer base, offer a variety of products applicable to daily commercial use, and partner with companies that also have a superior reputation for quality and service," Brian Levan said.
Know of a hard working truck or van business? Let me know at [email protected].