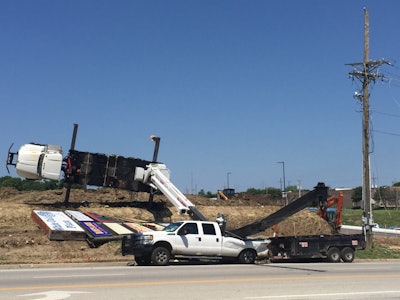 A pickup driver in Blue Springs, Mo. was being treated for possible injuries Monday morning after a crane truck nearby tipped over and landed on his truck.
The Missouri Department of Transportation, which responded to the accident near the intersection of SB Highway 7 and Highway 40, posted on Twitter that a crane truck, owned by Elliot Equipment Company, had been helping to build a grocery store on an elevated dirt lot above Highway 7 when it tipped over.
As it fell, the crane's arm took down power lines before striking and crushing the pickup bed of a Ford F-250 FX4 that had been parked along the shoulder of Highway 7. In one of its Tweets MoDOT said that the pickup driver "was being checked out by a medical team."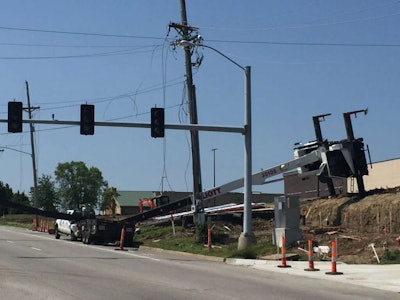 Traffic was shut down on Highway 7 following the incident. MoDOT reported that there were "several hazards in the area" including a gas cylinder inside the pickup which had been punctured by the crane.
A photo posted by MoDOT (shown above) reveals that the crane's arm nearly landed directly on top of the gas cylinder which is shown standing upright in the truck bed just behind the cab.
Breaking: Crane struck truck below & brought down power lines. SB 7 Hwy & 40 Hwy in Blue Springs. Several hazards in the area. #kctraffic pic.twitter.com/bbYR1jTf4N

— MoDOT Kansas City (@MoDOT_KC) July 24, 2017