Allison Transmission launched a new fuel-efficiency package at the Work Truck Show in Indianapolis, Ind. Wednesday that the company says can deliver up to 20 percent fuel savings when compared to its fourth generation models.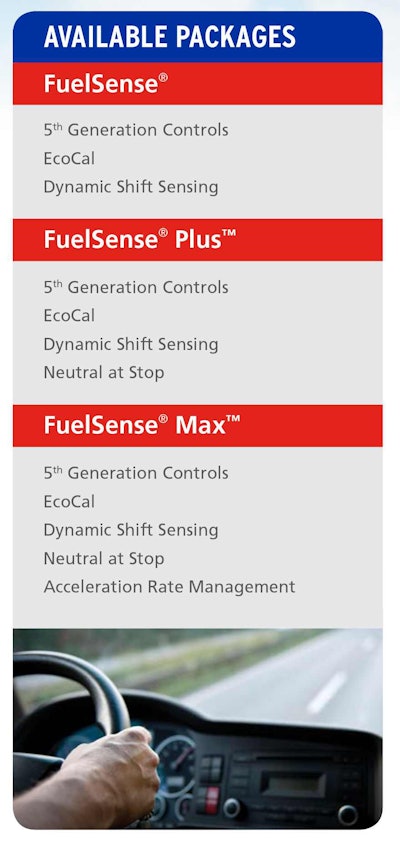 FuelSense features, a mixture of hardware and software, automatically adapt shift schedules and torque, maximizing transmission efficiency based on load, grade and duty cycle, Allison says.
"Fuel prices have nearly doubled since the mid-2000s, and fleet owners need solutions," says Michael Headly, senior vice president, global marketing, sales and service for Allison Transmission. "They want straightforward fuel economy, without compromising overall fleet performance and productivity. With FuelSense, Allison delivers the best of both worlds."
According to Allison, FuelSense features include the company's 5th Generation smart controls, acceleration management, and a precision inclinometer; EcoCal shift technology to keep engine speed at the most efficient level; Dynamic Shift Sensing to automatically sense when low-engine speed shifts can be made, and Neutral at Stop to save fuel and reduce emissions when the vehicle is stationary.
FuelSense features have already been integrated into Allison's TC10 for tractors. At the joint announcement Wednesday, Freightliner executives revealed that it would be the first OEM to offer FuelSense in the North American medium-duty market. However, Allison says the relationship was not exclusive and that other OEMs could jump onboard at anytime.
Mary Aufdemberg, director of product marketing for Freightliner, says FuelSense will be available in late 2014 on M2 chassis equipped with Allison 2000 and 3000 series transmissions paired with the Cummins ISB6.7.
FuelSense is available in three phases; Standard, Plus and Max. Freightliner will only offer the Max version.