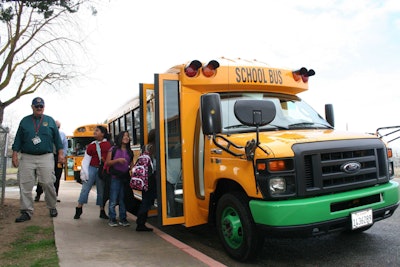 Kings Canyon Unified School District (KCUSD), located in California's San Joaquin Valley, is a trendsetter.
The district is the only one in the nation using an all-electric school bus to transport students. KCUSD ordered four buses from Trans Tech Bus, featuring electric powertrains from Motiv Power Systems. The new electric school bus recently passed all KCUSD and California Highway Patrol inspections and certifications, making it the first modern electric bus to be approved for student transportation by any state.
The bus is expected to save KCUSD more than $10,000 a year in fuel and maintenance costs. Called the SST-e, the electric version of Trans Tech's SST model was unveiled in October 2013 and delivered last month. The SST-e utilizes a Ford E450 cutaway chassis equipped with a Motiv electric powertrain.
"KCUSD has taken major strides to reduce diesel particulate emissions by as much as 85 percent" says Jason Flores, Transportation Director for KCUSD. "Going electric with these new green school buses is just one more important step in KCUSD's ongoing portfolio of measures to protect our children, serve our community, and be good stewards of our environment. We hope other school districts will follow our lead to protect children from diesel particulates and protect themselves from rising diesel costs."
Motiv says its electric Powertrain Control System (ePCS) is the only solution in the truck and bus market to make medium- to heavy-duty vehicles all-electric with a variety of commercially-available batteries and motors. The Motiv ePCS is installed on the E450 chassis and other chassis types, as a ship-through modification similar to a Compressed Natural Gas up-fit. This enables minimal changes between the fossil fuel and electric versions of the vehicles.
"In this way, we are answering the call of the transportation industry to build reliable EV's that fit seamlessly into the existing truck and bus manufacturing and service infrastructure," says Jim Castelaz, Founder and CEO of Motiv Power Systems. "We are absolutely thrilled to see this school bus transporting students without exposing them to diesel exhaust. I hope that by the time my daughter is old enough to go to school clean, zero-emission school buses like this one will be the industry standard."
The first SST-e buses are partially funded by the AB 118 Air Quality Improvement Program (AQIP) administered by the California Air Resources Board. Funding support for the electric school buses was provided through AQIP's Advanced Technology Demonstration Project and the Hybrid and Zero-Emission Truck and Bus Voucher Incentive Project (HVIP). Voucher incentive funding is available through HVIP to any California school district for offsetting the cost of these zero-emission buses. Similar programs are in place in New York City and Chicago. When the fuel cost savings are combined with vehicle financing, these school buses are available at or below the cost of conventional buses.
The Trans Tech/Motiv SST-e school bus is available with 80 or 100 miles of range and holds 25 students or 18 students with a wheelchair lift and configurable track seating for up to 3 wheelchairs.