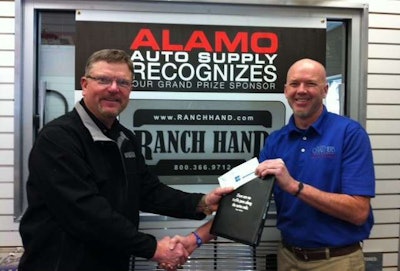 Alamo Industries Inc, a retail store and distributor servicing west Texas, New Mexico, and northern Chihuahua, Mexico, hosted their annual Jobber Show for manufacturers and jobbers in the region. Every year, they provide a fun and informational weekend which includes a casino night, trade show, golf tournament, and customer appreciation dinner.
The casino night is where this particular magic happened. The grand prize of the evening was a 54" television that was purchased through the monetary donations of Ranch Hand Truck Accessories, Curt Mfg, Extang, and Penda. The name was drawn and the winner was Mike McCracken, team member of Don Chalmers Ford in Rio Rancho, New Mexico. Any person in their right mind would be excited about a free 54" television and Mike was indeed excited; however, he had created a great relationship over time with Alamo Industries Inc and knew about one of their team members who was battling the forever evil disease – cancer.
Estela Baca Herrera had worked in the accounting department at Alamo Auto for 14 years and was an integral part of the company.
"She has such a great personality that all of her customers loved her – even though she was collecting money from them! Her customer service background along with her loving, sharing personality make her a favorite person of all who know and work with her" said Alamo's Controller, Barbara Arpin.
Estela was admitted to the hospital on Mother's Day 2013 and diagnosed with Acute Myeloid Leukemia. She had chemotheraphy treatments in El Paso through August and in October she went to Houston for continued care at a specialized cancer hospital. She has been blessed with a match for her stem cell transplant, and she and her family are hoping she will be in remission soon so that the transplant process can begin. She has now been in Houston for 4 months and after the transplant needs at least 3 more months of recovery in Houston.
At casino night on Jan. 25, Mike McCracken decided to donate the big screen TV back with the idea that a silent auction could be created on Sunday to help raise money for Estela's medical expenses.
That's exactly what happened and the silent auction raised $575 along with an additional $785 via the casino night proceeds.
Ranch Hand Truck Accessories salesman, Bobby Strauss, had the opportunity to interact with Mike and commented on his incredible generosity and mentioned that he would definitely be blessed for his thoughtfulness, and this is where the story gets even more amazing.
At the end of the show on Sunday, the final grand prize drawing occurred for a $1,000 Visa Gift Card which was donated by Ranch Hand Truck Accessories. Bobby Strauss was called to the front and asked to draw the name. He dug deep and pulled apart two names that were stuck together and who do you think won the $1000 gift card? – Mike McCracken.
Everyone was speechless and Dick Krasne, one of the owners of Alamo Auto, called Mike while everyone gathered around to announce to him the good news as he had already left the show. People cheered with tears in their eyes. "You had to be there to feel the power of that weekend!" says Nita Goodman, team member at Alamo Auto.
On January 28, Bobby Strauss delivered the $1000 gift card to Mike McCracken at Don Chalmers Ford in Rio Rancho, New Mexico. Of course, Mike's generous heart overflowed again and he donated the gift card money to the Sandia Mountain Volleyball Classic, which is an annual sand volleyball tournament that he helps run which draws 120+ doubles players from all over the country and raises money for the New Mexico Cancer Society.