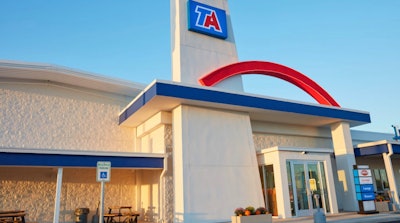 TCA
BP Products North America agreed Thursday to a $1.3 billion deal to acquire TravelCenters of America Inc., the operator and franchisor of the TA, Petro Stopping Centers and TA Express travel center brands.
The acquisition – valued at $86 per share (an 84% premium to the average trading price of the prior 30 days) – is a result of the successful implementation of the company's turnaround and strategic plans implemented in 2019, said TA's Chief Executive Officer Jonathan M. Pertchik.
"We have improved our core travel center business, expanded our network, launched eTA to prepare for the future of alternative fuels and improved our operating and financial results," he said, "none of which we could have accomplished without the hard work and dedication of our employees at every level."
This is the second time BP has owned TA. Standard Oil of Ohio bought TA in 1984 from Ryder, and BP bought Standard Oil in 1987. BP sold TA in 1993.
BP was not the only suitor for the truckstop chain. The company said it received unsolicited interest to be acquired and ultimately went through multiple "competitive rounds of bidding from potential buyers that resulted in the transaction announced [Thursday]."
The sale still has to be approved by shareholders who own a majority of TA's shares outstanding, however, Service Properties Trust, which owns 7.8% of TA's shares outstanding, and The RMR Group, which owns 4.1% of TA's shares outstanding, both have agreed to vote their shares in favor of the sale.
The transaction was unanimously approved by the TA Board of Directors.
BP gains a network of around 280 travel centers strategically-located on major highways across 44 states, complementing its convenience and mobility business.
"TA's amazing nationwide network of on-highway locations combined with BP's more than 8,000 off-highway locations have the potential to offer travelers and professional drivers a seamless experience for decades to come," said Dave Lawler, chairman and president of BP America.
TA signed 30 new franchise agreements in 2022 and opened three new franchised sites. The company said last month it planned to open 20 franchised locations in 2023. The company also acquired seven existing travel centers (six with truck maintenance facilities) which began operating as TA or Petro locations in 2022, and three standalone truck service facilities, which began operating as TA Truck Service.
Big boost for EVs?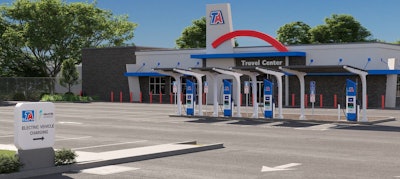 TA last month announced an agreement with Electrify America to offer electric vehicle charging at select TA/Petro locations with the first stations planned to be deployed this year. Electrify America is the largest open direct current fast-charging network in the U.S.
BP on Wednesday announced plans to invest $1 billion in EV charging across the US by 2030 and CEO Bernard Looney said on-boarding TravelCenters of America "will allow us to advance four of our five strategic transition growth engines. By enabling growth in EV charging, biofuels and RNG and later hydrogen, we can help our customers decarbonize their fleets. It's a compelling combination."