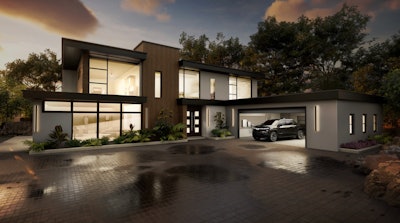 GM
GM has worked out a way to get around peak energy prices with its vehicle-to-home bidirectional charging technology.
Peak energy pricing from utilities occurs during the day when more energy from the grid is being used to power things like air conditioning, appliances, shop tools, etc.
GM says its V2H bidirectional charging technology can help offset those higher priced peak use times when customers get their power from their Ultium-based EVs instead of the grid.
This could turn an EV that's sitting at home unused into a portable power supply. An EV that's charged slowly overnight with AC power as opposed to more costly DC fast-charging would provide the best energy savings with a V2H system. V2H also provides power when the grid goes down.
GM announced today a V2H expansion across their retail portfolio of Ultium-based electric vehicles by model year 2026.
The first vehicles to receive the technology include the previously announced 2024 Chevrolet Silverado EV RST, followed by the 2024 GMC Sierra EV Denali Edition 1, 2024 Chevrolet Blazer EV, 2024 Chevrolet Equinox EV, 2024 Cadillac LYRIQ and the upcoming Cadillac ESCALADE IQ which will be revealed Wednesday.
Building on the company's plan to deliver a growing suite of energy management products and services through GM Energy, V2H will be able to transfer energy from GM vehicles to a properly equipped home when desired.
"GM Energy's growing ecosystem of energy management solutions will help accelerate GM's vision of an all-electric future, by further expanding access to even more benefits that EV's can offer," said Wade Sheffer, vice president, GM Energy. "By integrating V2H across our entire Ultium-based portfolio, we are making this groundbreaking technology available to more consumers, with benefits that extend well beyond the vehicle itself, and at broader at scale than ever before."
So, at what point does V2H stop transferring power to a home to avoid depleting EV battery cells?
"GM Energy's various Ultium Home product bundles will enable customers to seamlessly transfer power between their properly equipped Ultium-based EVs and their home," a GM spokesperson said. "Much like with unidirectional charging, GM customers will be able to set state of charge ranges for their vehicles while plugged in, and monitor through the GM Energy Cloud."
GM is also currently exploring vehicle-to-grid (V2G) technology which would allow GM owners to sell electricity from their EVs back to the grid including during peak use times
"GM Energy has a number of active pilots in place with utilities, which are exploring the potential applications and extensions of EV technology, including vehicle-to-grid," a GM spokesman said. "At this time, GM EVs are not V2G capable."
Customers will be able to leverage V2H technology on compatible GM EVs through GM Energy's available Ultium Home offerings, and the GM Energy Cloud, a software platform which will allow users to manage the transfer of energy between applicable and connected GM Energy assets and the home.
Information on additional availability of V2H technology and specific timing of V2H rollout to individual vehicle models will be provided in future updates.
Information about GM Energy and its ecosystem of available product and service offerings through
Ultium Home, Ultium Commercial and Ultium Charge 360 can be found at https://gmenergy.gm.com/.