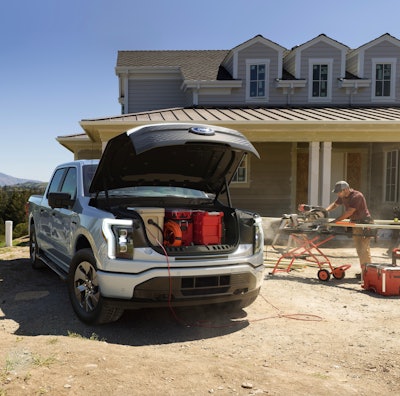 Ford
Ford announced significant price cuts for its electric F-150 Lightning pickups.
The biggest cut went to the fleet-minded Pro model with an MSRP drop of roughly 17% from $59,974 to $49,995. Check out other new prices below.

The Rouge Electric Vehicle Center in Michigan is temporarily closed to complete final plant upgrades to triple the plant's annual run rate to a targeted 150,000 F-150 Lightning trucks beginning this fall.
According to Ford the upgrades at the plant, combined with improving battery raw material costs and continued work on scaling production and cost, help make it possible to lower pricing across the F-150 Lightning line.
[Related: Used EV prices dropping on pickups and cars]
Customers will now have greater availability of their built-to-order truck as early as October at an MSRP closer to initial Lightning pricing.
"Shortly after launching the F-150 Lightning, rapidly rising material costs, supply constraints and other factors drove up the cost of the EV truck for Ford and our customers," said Marin Gjaja, chief customer officer, Ford Model e. "We've continued to work in the background to improve accessibility and affordability to help to lower prices for our customers and shorten the wait times for their new F-150 Lightning."
With ordering now open for all customers, Ford is offering a $1,000 bonus for retail customers who build their own XLT, Lariat or Platinum truck through their dealer or via ford.com from July 6 to July 31 as part of the national summer sales event. In addition, Ford Credit is offering eligible buyers interest rates as low as 1.9 percent APR for 36-months.
The 2023 MotorTrend Truck of the Year, most F-150 Lightning models are also eligible for as much as $7,500 in potential Inflation Reduction Act consumer and commercial electric vehicle tax credits.
Starting early next year, all F-150 Lightning customers will have access to more than 12,000 Tesla Superchargers across the U.S. and Canada. Commercial customers can also access Ford Pro Charging solutions to keep their F-150 Lightning powered up whether they need to charge at home or onsite at work.
Customers can order their F-150 Lightning from their local dealer here or in-store.