Trucking news and briefs for Monday, Aug. 21, 2023:
Mack plant certified for supporting renewable energy resources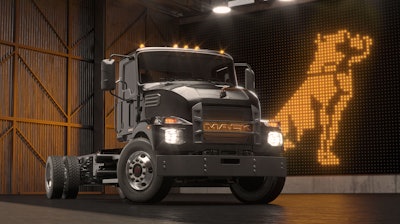 Mack Trucks' Roanoke Valley Operations (RVO) in Virginia, where all of the company's medium-duty vehicles are assembled, is now certified and participating in Appalachian Power Company's 100% Renewable Wind-Water-Sunlight (WWS) Service.
This means that RVO purchases 100% of its renewable energy with zero CO2 emissions from Appalachian Power, meeting the needs of Mack's and RVO's commitment to sustainability and environmental stewardship.
"This certification is very important to Mack Trucks and RVO specifically because it allows us to act on our public commitment to sustainability," said Antonio Servidoni, vice president at RVO. "Mack not only offers electric vehicles, such as the Mack MD Electric that will be assembled here at RVO later this year, but also it is committed to working toward a sustainable future in our facilities."
Appalachian Power's WWS program allows customers the ability to consume renewable power around the clock with 100% of the energy generated by the company's renewable power generators. The combination of wind, hydroelectric power and solar means that a customer's load is being met with renewable resources anytime – day or night. Appalachian Power has 338 megawatts (MW) of renewable resources available to its Virginia customers through the WWS program, which is enough to power 75,000 homes.
Compliance management service launched for large fleets
FleetDrive 360, a provider of cloud-based services for Federal Motor Carrier Safety Administration and DOT compliance management, has announced the launch of its Enterprise version tailored specifically for larger fleets.
The new package combines advanced compliance management features with customizable branding capabilities, all within a single, user-friendly system.
"With the introduction of our Enterprise version, we address the unique needs of larger fleet operations by consolidating all compliance management features into one powerful solution," said Nic Sallis, chief operating officer at FleetDrive 360. "By having access to all their data in a centralized platform, larger fleets can eliminate major pain points, streamline recordkeeping, and achieve enhanced compliance, ultimately enabling them to focus more on core business activities and growth."
FleetDrive 360 Enterprise offers:
Streamlined driver onboarding – The hiring platform facilitates quick and efficient onboarding of drivers through an automated qualification process. It digitizes driver documents and performs various pre-employment screenings, including state and federal background checks, CDLIS, PSP, and MVR records checks.
Seamless data integration – FleetDrive 360 allows easy integration with the most widely used ELDs, enabling the import of safety and Hours-of-Service data, among other information.
Efficient consortium management – The Enterprise package provides a single dashboard for drug and alcohol random testing, allowing complete control over the entire process while eliminating third-party expenses.
Customizable branding – FleetDrive 360 introduces a branded recruiting portal that can be integrated into any platform or company website. The portal allows drivers to apply and initiate the hiring process conveniently. Additionally, the system offers company-specific branding and messaging for documents, emails (with unique domains), notifications and custom content.
DOT names members of new civil rights committee
The U.S. Department of Transportation last week announced the appointment of 24 members to its new Advisory Committee on Transportation Equity (ACTE) under the Federal Advisory Committee Act (FACA).
Appointees to the Advisory Committee are drawn from academia, the private sector, and the transportation industry. They include experts in community engagement, transportation planning, design, research, policy, advocacy, and diversity, equity, inclusion, and accessibility (DEIA). The group will hold its first meeting in the fall.
Transportation Secretary Pete Buttigieg re-established the ACTE to provide independent advice and recommendations about issues of civil rights and various contexts of transportation equity from a variety of leaders. The ACTE was originally initiated during the tenure of Transportation Secretary Anthony Foxx, and the re-establishment of the ACTE is necessary for the DOT to carry out its mission to deliver the world's leading transportation system, serving all American people through the safe, efficient, sustainable, and equitable movement of people and goods, the department said.
"We are grateful to the distinguished members of the ACTE, and I look forward to working with them as we continue our efforts to bring better infrastructure—and the jobs and opportunities that come with it—to every community across the country," Buttigieg said.
The main objectives of the committee are to provide advice and recommendations to inform the Department about efforts to:
Help inform the DOT secretary on promising practices to institutionalize equity into agency programs, policies, regulations and activities
Strengthen and establish partnerships with overburdened and underserved communities who have been historically underrepresented in the DOT's outreach and engagement
Offer a forum for coordination and the exchange of information on equity concerns raised in local and regional transportation decisions
Provide added strength, objectivity, and confidence to management's decision-making process
The newly appointed members – who will each serve two-year terms – can be found here.