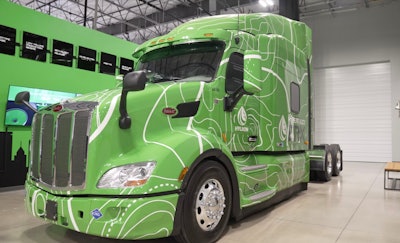 Hyliion
Cummins has thrown its hat in the ring at Hyliion where it will work with the Texas-based start-up to maximize powertrain efficiency on the Hypertruck ERX.
Both companies announced Tuesday that Cummins will work alongside Hyliion "to optimize the Cummins natural gas engine as the generator for the Hypertruck ERX powertrain."
The Hypertruck ERX, which Hard Working Trucks drove earlier this year, offers 75 miles of all-electric range before switching to Cummins' ISX12N to power up the battery pack. The natural gas generator brings total range up to 1,000 miles.
"We are excited to work with Hyliion to offer this range extender electric and natural gas powertrain in the North America heavy duty truck market," said J. Michael Taylor, General Manager Global Powertrain Integration, Cummins Inc. "Natural gas solutions are an integral part of our journey towards zero emissions. Integrating our engine with the Hyliion Hypertruck ERX solution is key to offering our customers a portfolio of powertrains across many fuel options to meet their sustainability goals."
Both companies are bullish on renewable natural gas (RNG) which offers the lowest carbon intensity score of all transportation fuels, according to the California Air Resources Board. With a carbon intensity score as low as -600, RNG can help fleets cut carbon at a time when pressure is growing to go green.
"When you tie in renewable natural gas, you have the ability to go below zero from an emissions standpoint," Hyliion CEO and founder Thomas Healy told HWT during a Hypertruck ride and drive event earlier this year. "It's absolutely a selling point for fleets that have climate change initiatives where they're saying 'Hey, by 2030 or 2040, we're going to be net carbon zero.' If we can give them a truck that's net carbon negative, we actually have the ability to offset emissions from other parts of their business."
Cummins, which recently launched its 15-liter X15N natural gas engine, sees both regulatory requirements and environmental, social and governance investment pressures swaying more fleets to seek out renewable natural gas. The general manager of Cummins global natural gas business, Puneet Jhawar, told reporters at a recent media event at the company's headquarters in Columbus, Indiana that RNG supply is building to meet growing demand.
"Almost all of the fueling companies are confident that within the next three to five years they'll have enough RNG to be able to move anywhere between 10 to 15 to 20% of the heavy-duty market [to natural gas] which could be anywhere between 60,000 to 100,000 trucks," Jhawar said.