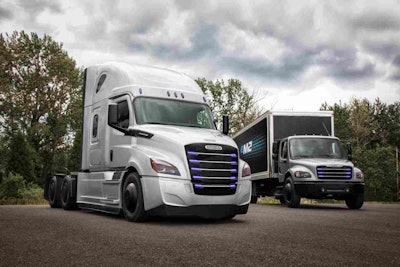 With serial production of its electric eCascadia and eM2 set for next year, Daimler Trucks North America (DTNA) announced Monday the forthcoming battery electric vehicles would be powered by a proprietary Detroit ePowertrain.
The company expects to invest upwards of $20 million in its Detroit, Michigan, manufacturing facility, which will serve as the source of Detroit ePowertrain components in North America when initial production of the Detroit ePowertrain begins later this year.
The Detroit ePowertrain initially will offer a 400 volt eAxle design in single or dual motor configurations. A single motor design is rated at 180 horsepower and up to 11,500 lb-ft of torque. The dual motor design offers up to 360 horsepower and 23,000 lb-ft of torque.
The Detroit ePowertrain will be mated to one of three battery offerings for the eCascadia and eM2, including a 210 kilowatt hour (kWh) version, a 315 kWh version, and a 475 kWh version. Battery packs are comprised of arrays of lithium-Ion prismatic cells. In Detroit's first ePowertrain offerings, the maximum range specifications will exceed 230 miles on a full charge for the medium-duty eM2 and 250 miles for the Class 8 eCascadia tractor.
The Freightliner dealer network, said DTNA head of eMobility Rakesh Aneja, will play an integral part in the future growth of both Detroit and eMobility by providing sales, support and service for the ever-expanding portfolio of Detroit engines, transmissions, axles, safety and connectivity technologies, and, now, ePowertrain systems and battery packs.