For fleets that want to go green with their heavy-duty trucks without sacrificing capability and paying more upfront costs that electric powertrains bring, consider Roush CleanTech's near-zero autogas system.
Roush has been working with three alt fuel powertrains—natural gas, propane and electric, and it's the later that they feel isn't quite ready for prime time when it comes to hauling heavy loads.
"We're not compromising the way a fleet would operate this truck with what this asset needs to do on a daily basis," Roush CleanTech President Todd Mouw says in the video below which was shot recently at The Work Truck Show in Indianapolis.
Mouw provides a closer look at a 2019 F-750 box truck equipped with Roush's new near-zero propane emissions technology which received the lowest optional NOx certification that the California Air Resources Board has to offer at 0.02 g/bhp-hr. That's 90 percent below the current standard.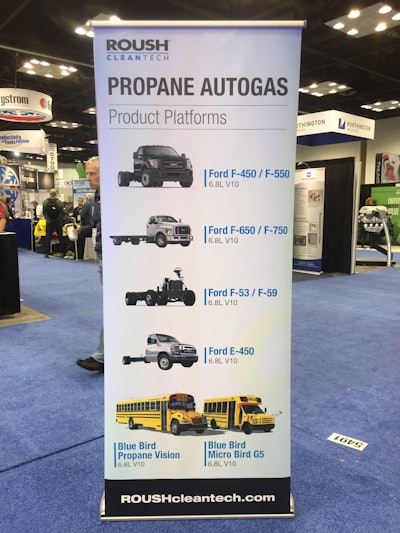 A 30-gallon tank provides 200 miles of range while horsepower and torque generated by the truck's 6.8-liter V10 remain unaffected with the autogas upfit.
Mouw said fleets do not have to chase down grants and Volkswagen settlement money to go green with Roush's near-zero autogas system.
"The economics really play out for our customers. Whether there's funding or not, we don't want that to slow down the process," Mouw said. "Even without funding, the total cost of ownership picture for our fleets is significantly positive even at today's fuel prices for gasoline and diesel."
Biopropane production is also offering fleets another path to get even greener, Mouw said. Renewable Energy Group in Louisiana is producing 30 million gallons annually of renewable propane. Whereas conventional propane is a byproduct of petroleum and natural gas production, renewable propane is obtained through renewable diesel production which is sourced from organic material.
Biopropane combined with a near-zero auto gas system from Roush can quickly help emissions-sensitive states like California more quickly and equitably reach challenging clean air goals.
"Obviously, they're more pointed at electric today, but we think this is probably more mainstream, more commercially viable than electric technology which over time as battery costs come down, will become more commercially viable," Mouw said. "But we have a solution right now to California's air quality issues with this .02 NOx engine and a renewable fuel source."