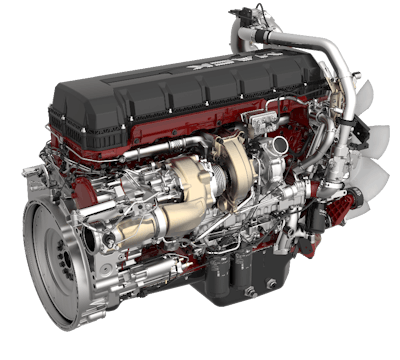 A new version of Mack's 13-liter M 8HE engine unveiled Monday comes with a fuel efficiency improvement by up to 3% compared to the current MP8HE.
The next generation Mack MP8HE engine will continue to be offered in 415 and 445 horsepower ratings with 1,760 and 1,860 lb.-ft. of torque, respectively.
The new engine platform, which Mack Trucks Highway Product Manager Stu Russoli said has been "thoroughly revised," features an updated wave piston design that more evenly distributes the air and fuel mixture within the cylinder to burn fuel more completely and consistently than traditional piston designs. Mack Energy Recovery Technology captures waste energy from the engine's exhaust and converts it back into mechanical energy delivered to the engine crankshaft as additional torque. Additional efficiency gains came by increasing the MP8HE's compression ratio from 17:1 to 18:1 and adding an improved turbocharger and wastegate.
Mack Anthem models spec'd with extended chassis fairings and the Mack HE+ efficiency package, which includes the revised MP8HE engine, now deliver up to a 13% improvement in fuel efficiency compared with a baseline Anthem model.
The Mack HE+ efficiency package bundles the MP8HE engine, the Mack mDRIVE automated manual transmission, Mack Predictive Cruise and other aerodynamic enhancements and can also be combined with Mack's all-new extended chassis fairings, which smooth airflow around the rear axles to deliver an additional 0.5% improvement in fuel efficiency.
Factory-optional FlowBelow
Mack Trucks on Monday also announced the availability of factory-installed FlowBelow Tractor AeroKit system on its Anthem highway models. The system, which Mack said improves fuel efficiency by up to 2.23%, will be available for order beginning later this quarter.
The FlowBelow Tractor AeroKit system is a complete aerodynamic system designed to reduce aerodynamic turbulence as air passes over the rear axles of a tractor by combining center and rear fairings with aerodynamic wheel covers.
The FlowBelow Tractor AeroKit is available in black or white on Mack Anthem 6×4 and 6×2 tag configurations. Wheel covers are available in black, white and chrome. For more information, please visit your local Mack dealer.