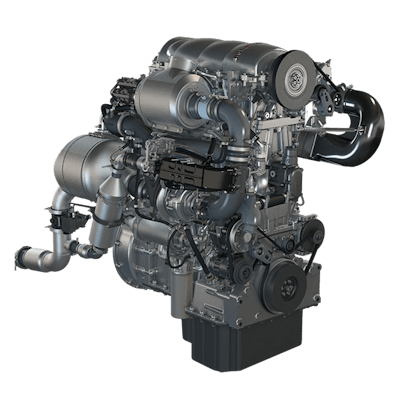 Diesel is dead? Not quite yet.
Achates announced Friday that it has produced a heavy-duty, two-stroke diesel engine with near-zero emissions that costs less than a conventional engine and is expected to emit lower carbon dioxide than required by the U.S. Environmental Protection Agency.
In a letter posted Friday to the California Air Resources Board's comment log for its proposed Heavy-Duty Engine and Vehicle Omnibus Regulation, Achates Executive Vice President and Chief Commercial Officer Laurence Fromm reveals the latest news on its prototype 10.6-liter opposed-piston engine which is being tested in facilities around the U.S.
"Based on engine and aftertreatment testing, we are highly confident the engine design can be certified, with adequate engineering margin, to the proposed CARB ultralow NOX standard of 0.02 g / bhp-hr on the Federal Test Procedure (FTP) cycle," Fromm writes.
"The engine will also emit less C02 than the EPA requires," Fromm continues. "Testing to date shows the engine already emits less C02 than today's engine regulation, even while emitting 90% less NOx. With ongoing development, we expect to demonstrate around the end of 2020 that we emit less C02 than the 2027 EPA requirement, the terminal requirement for the GHG Il standard, again even while emitting 90% less NOx."
Fromm goes on to say that an independent cost analysis report comparing Achates engine to a conventional diesel with the same power and torque revealed that Achates opposed piston engine "will cost between 6 to 14% less than the comparable conventional engine." Thanks to its two-stroke, opposed-piston design, the Achates engine does not require a valve train assembly which reduces parts requirements, cuts weight and trims productions costs.
The Class 8 truck engine which is being funded by CARB is expected to begin on-road test trials next year. Mass production, Fromm says, could begin in roughly seven years.
"While the OPE engine is not yet in volume production, we are confident that if an OEMs starts now to commercially develop an OPE engine, it could be in mass production by 2027, providing lower fuel consumption, more durable emission control and a lower cost," Fromm states.
In addition to concentrating on the heavy-duty truck segment which has come under increasing scrutiny by CARB and other emissions-minded government agencies around the U.S., Achates has also developed an emissions-fighting engine for pickups.
Revealed in 2018 at the Detroit Auto Show in a late model Ford F-150, Achates reported that the 2.7-liter two-stroke, fuel-sipping opposed-piston gasoline compression ignition engine delivers 270 horsepower and 480 lb. ft. of torque while achieving 37 mpg combined, or nearly five MPG better than the proposed CAFE 2025 requirements for a vehicle of a similar size. The company also produced a diesel version that gets 42 mpg combined.
Achates also worked with Cummins to produce an opposed-piston, 14.3-liter diesel engine for the U.S. Army Tank Automotive Research, Development and Engineering Center (TARDEC). The 1,000-hp four-cylinder engine is a big step up from Cummins' 750-hp 14.8-liter V903 engine, a long-time favorite of the U.S. military according to janes.com.