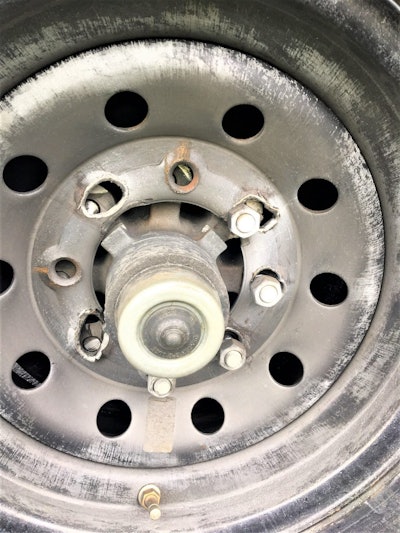 It's one of the ugliest things we've seen on a truck yet—and thankfully no one got hurt.
Massachusetts State Police Commercial Vehicle Enforcement Section posted a picture of a truck wheel this week that appeared to be on the verge of falling off the hub.
Look above and see for yourself. Only half of the eight lug nuts remained and it's obvious that those nuts were not keeping it tight and safe.
Trooper James Talbot got plenty of praise for spotting the dangerous wheel as the truck was moving along on the Massachusetts Turnpike. The driver was cited and the truck was pulled from service.
"That's outstanding to notice that!" truck driver John Gorman III posted on MSP's Facebook page. "I hope the citation was hefty and lengthy! I also hope the truck got towed to a repair facility. Maybe that will teach the driver or company to not cut corners.
"As a CMV operator myself, I pride myself on doing propped pre/post trip vehicle inspections," Gorman continued. "My company is also very good at repairing defects almost immediately. People like this give the trucking industry a bad rap. Trooper Talbot did an excellent job with this and I commend him for his attention to detail! P.S. I probably drive by him half a dozen times a week without knowing it, so I'm glad he is there keeping the roads safe for all drivers."
Well said. Last year, a Maine state trooper that had stopped to assist a motorist along I-95 was struck and killed by an errant wheel that had broken away from a passing tractor-trailer.