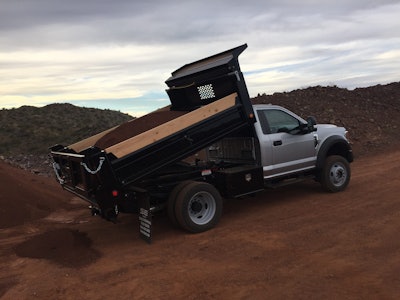 Hard work just got a little easier thanks to Ford's new powertrain line-up for model year 2020.
Ford's new 7.3-liter V8 gas engine and its new third generation 6.7-liter Powerstroke are not only exciting to drive, they're delivering best-in-class capabilities across several vehicle classes.
But what's power without grace? Enter Ford's all-new heavy-duty 10-speed TorqShift transmission available in 2020 F-250 Super Duty all the way through the new F-600 chassis cab. At the same size as the TorqShift 6-speed and only four pounds more, the new electronically controlled 10-speed offers selectable drive modes and a live drive power takeoff provision with a best-in-class 300 lb.-ft. torque with diesel.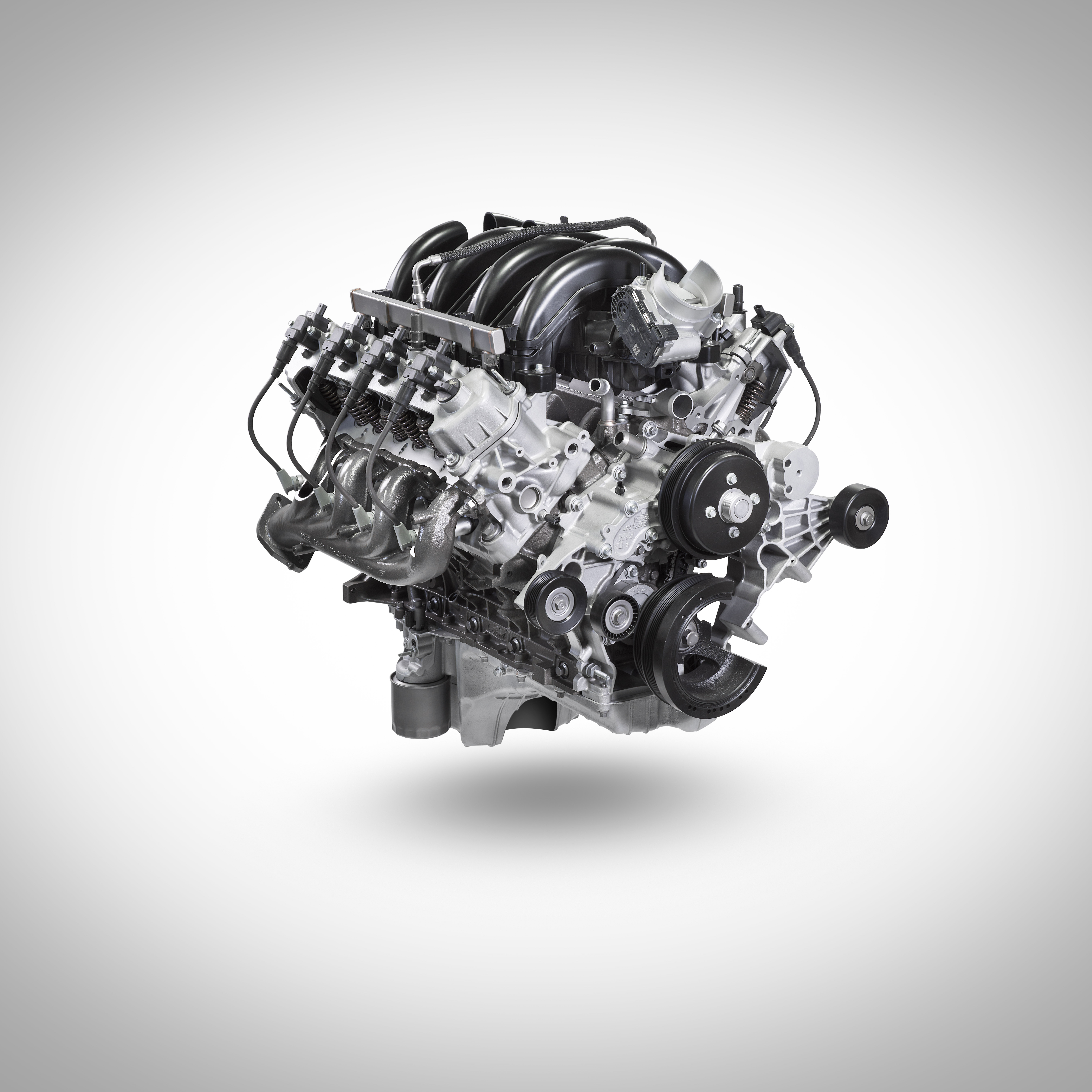 Whether bolted to the new 430-hp 7.3-liter gasoline engine or 475-hp 6.7-liter Powerstroke, the 10-speed TorqShift turned uphill towing on a roughly 6% grade into smooth, powerful and efficient work at Ford's recent media event near Phoenix, Ariz.
But it's the new 7.3-liter V8 – nicknamed Godzilla – that's getting a lot of attention. Ford's first pushrod V8 since the mid-nineties is lighter, faster, more compact and more versatile than the Triton V10 it's replacing.
The numbers don't lie. The retired V10, which ended for model year 2019, weighs in at 617 pounds. The fit and trim 7.3-liter muscles in at 587.4 pounds while delivering a dyno certified best-in-class 350 horsepower and best-in-class 468 lb.-ft. of torque. That's 45 more horses and 112 more lb.-ft. than its predecessor. Chassis certified numbers for Super Duty pickups below 14,000 pounds GVWR have the 7.3 maxing out at 430 horses and 475 lb.-ft. torque.
"We're really proud of the 7.3-liter," Ford Super Duty chief engineer Mike Pruitt said while standing in front of an F-450 dump truck equipped with the iron block stump puller.
The Windsor-produced 445 cubic inch V8 was designed from the ground up, Pruitt explained. It's not only lighter and more powerful than the outgoing V10, it has fewer parts such as 16 valves and one cam versus 32 valves and four cams found in the V10.
"We've put a lot of thought into the engine about making it bullet-proof, keep-it-simple so we went back to a cam and block design," Pruitt said. "It's a much smaller, compact engine with fewer parts. We wanted that commonality between ourselves as well as the medium-duty truck and keeping that simplification for maintenance purposes which is very important to the fleet business."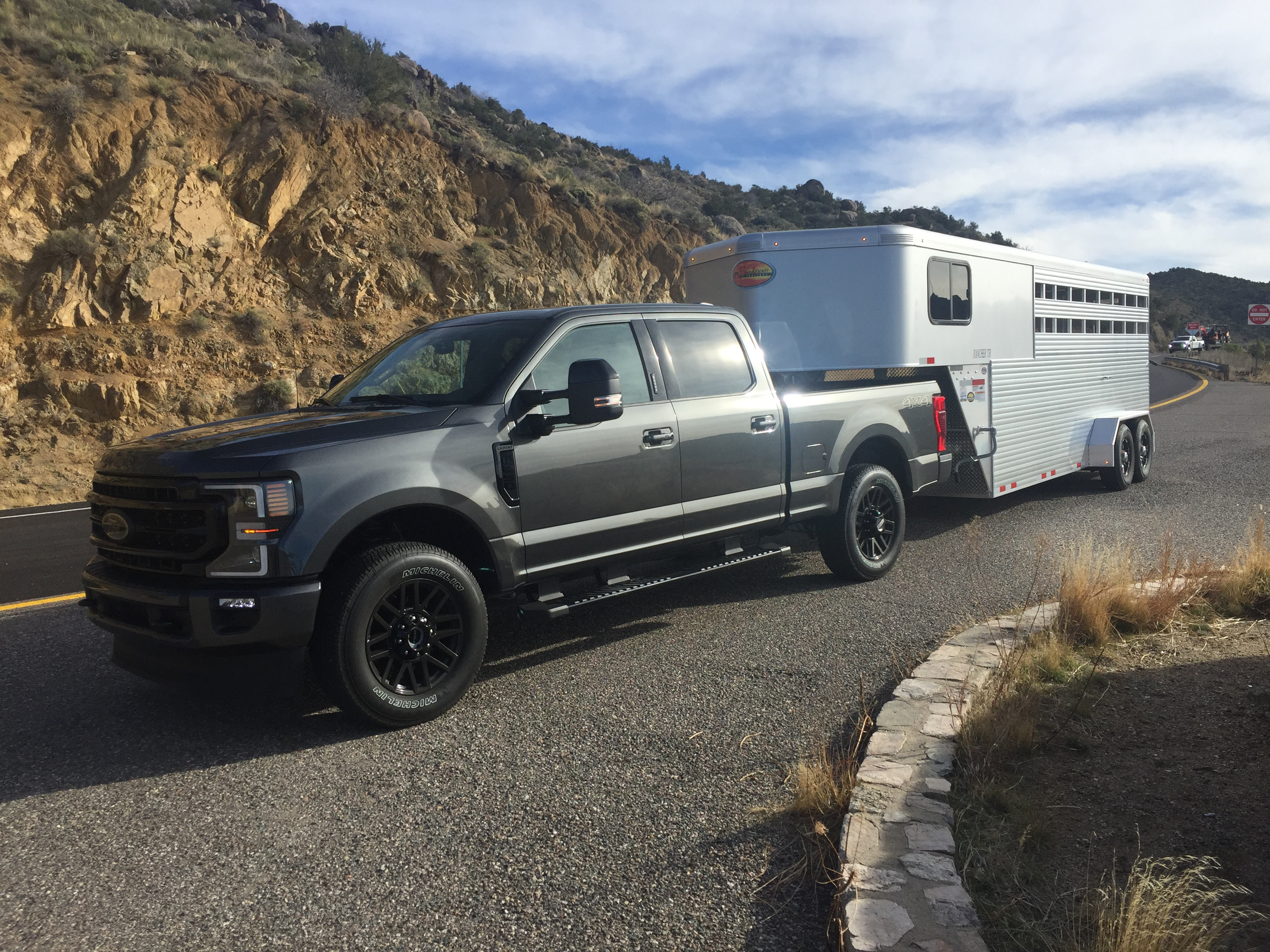 Ford has stepped up oil management in the 7.3. A variable displacement oil pump reduces friction and cuts parasitic losses while piston cooling oil jets help tackle the heat. Increased efficiency keeps coming as oil change intervals in the new 7.3 get an impressive bump from 7,500 miles to 10,000 miles over the outgoing V10.
"It has an oil minder so it will monitor the usage but it will go up to 10,000 miles between oil changes. That's a big advantage to fleet customers," said Patrick Hurtrich, Ford's gas V8 engine supervisor.
The 7.3's four-bolt main cast iron block is capped by aluminum, high-flow heads with port fuel injection. During a recent cross-country trip, a 2020 F-250 I drove with the new 7.3 and a 3.55 rear axle averaged 15.5 mpg. Gear changes for the 10-speed TorqShift were remarkably smooth and got the Lariat crew cab up to speed fast. A vertical display within the tachometer indicates current gear.
The new 7.3-liter costs roughly $2,045 over the 6.2-liter gas V8 which still comes standard in 2020 F-250 and F-350 pickups and the F-350 chassis cab.
If you need more power, consider the best-in-class 475-hp third generation 6.7-liter Powerstroke diesel, which has 25 more horses and an additional 120 lb.-ft. torque than the previous iteration. Ford's most powerful oil burner yet is also paired up with a new variable displacement oil pump that helps to keep that top workhorse lubed up as it maxes out at a class-best 1,050 lb.-ft. torque. When passing a slow driver on an Arizona highway, the F-250 I was in had zero lag. The new 6.7 responded like no other factory-produced diesel I've driven and blasted us safely ahead in amazing time. Such power doesn't come cheap though. Expect to shell out roughly $10,500 more over the 6.2 for the privilege.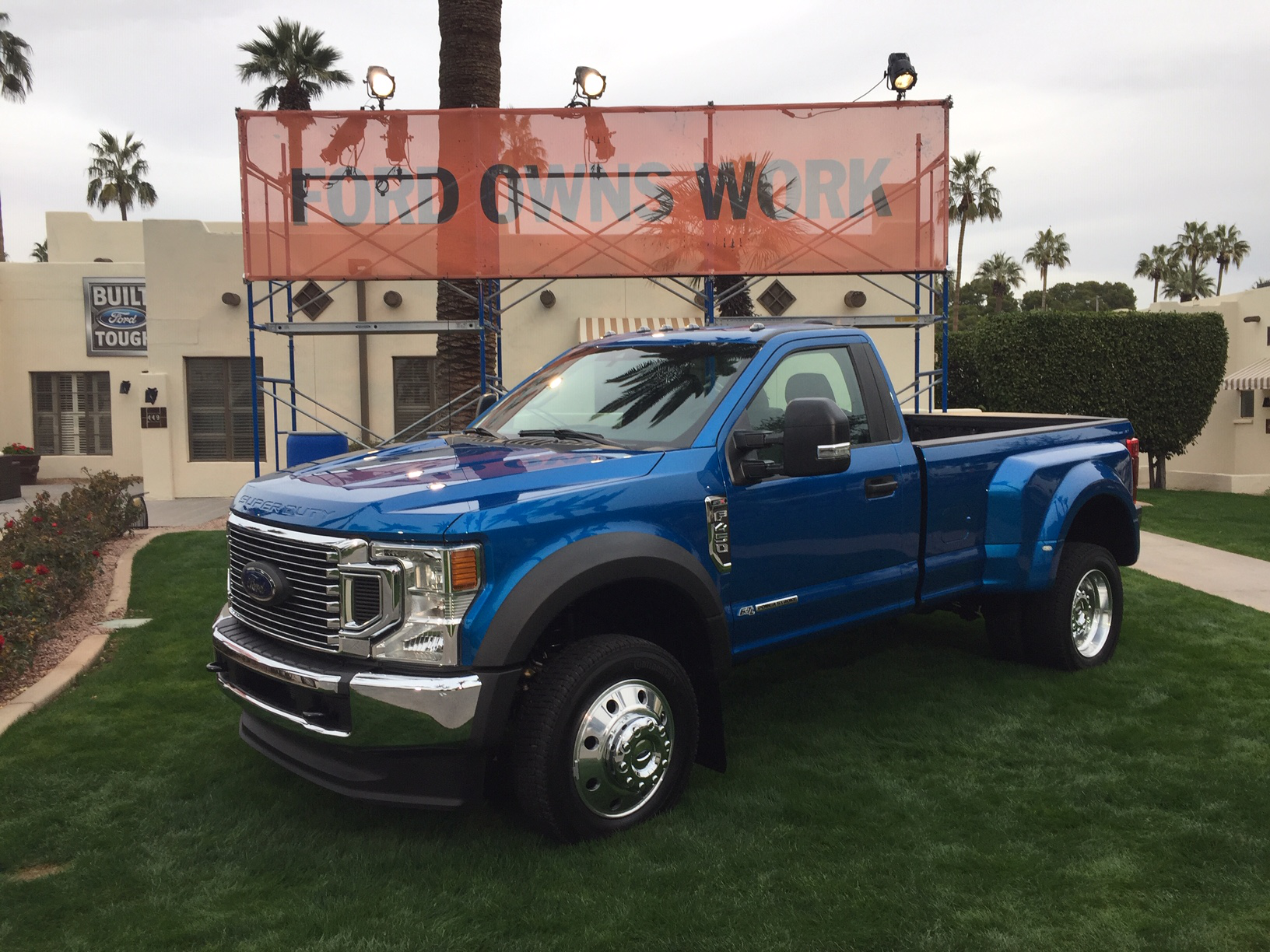 That investment can more quickly pay off if you do more hauling and towing. David Ives, Ford's diesel technical leader, provided us with one of his favorite lessons on diesel efficiency. While testing a Ford 6.7-liter diesel pickup with no load, Ives said it reached a 20% gain in fuel economy over an unloaded Ford 6.2-liter gas truck. But that gap quickly grew to 40% when both trucks were subjected to towing identical loads.
"For diesel, when you put the load on, it gets more efficient thermally. It just gets better. It gets happier to pull," explained David Ives, Ford's diesel technical leader. "A gas engine…the more you load them, the less happier they get because you've got to turn the enrichment on to keep the manifolds cool."
Increasing enrichment means operating with a less efficient air-fuel ratio. In addition, gas engines that max out at half the torque of a diesel engine will have to downshift more often and run at higher RPMs to keep that load moving at an acceptable speed. The timing may also have to be retarded to prevent knocking, Ives said.
"You grind through all that math and find out that your payback period if you're towing with diesel, the amount of miles you have to drive it before it pays back, is one-fifth versus running them around empty," Ives explained. "So the payback period, if you're towing, may be 50,000 miles. You can justify that cost because you're probably going to keep the truck for 150,000 miles or so."
Ford's best-in-class & best-in-segment claims for model year 2020