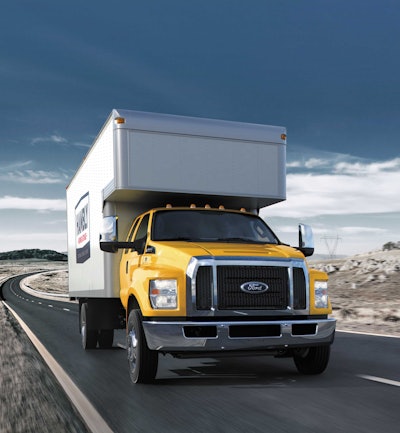 Ford today announced record sales of its F-650 and F-750 trucks.
According to this morning's Q2 sales announcement, Ford's Class 6/7 trucks just posted their best second quarter results since 1997, with an 83 percent year over year gain.
Ford credits continuous product improvement and a focus on expanding its commercial dealer network for the growth.
"By expanding our medium duty network and providing extensive training and support to our dealers, we now have more than 1,000 trained salespeople across the country helping our commercial customers order exactly the right trucks for their applications, which is directly contributing to our record sales," says Kevin Koester, Ford commercial truck brand manager. "At the same time, our fivefold increase in medium duty servicing dealerships since 2015 gives customers confidence that whether they operate locally, regionally or nationally, they will be able to get service and support quickly. Since time is money for commercial customers, knowing that they can minimize costly downtime and keep their trucks on the job is also helping drive sales."
When Ford introduced the all-new F-650 and F-750 in 2015, there were fewer than 100 Ford dealers across the country servicing Ford medium duty trucks. Thanks to an ongoing effort from the Ford sales and service teams, there are now more than 500 Ford dealers servicing medium duty trucks across the U.S., and the number of dealers stocking these trucks is up more than 25 percent year over year.
For the first half of the year, sales of F-650 and F-750 are up 53 percent, with growth in many vocational market segments, including tree service, towing, beverage distribution and delivery service/freight. Market share is up, too, with Ford picking up almost five points in the Class 6/7 chassis cab segment for a total share of nearly 20 percent, according to registration data through April.
In March, Ford announced that F-650 and F-750 for model year 2021 will come standard with a modem providing 4G LTE Wi-Fi for up to 10 devices, as well as many new driver assist technologies, including traction control, hill start assist and auto headlamps. Automatic emergency braking, adaptive cruise control, electronic stability control, lane departure warning, Driver Alert System and auto high-beam headlamps also will be available.