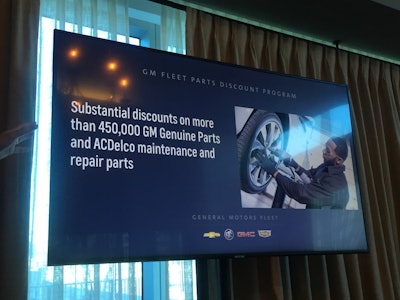 Sometimes big news comes in pairs.
GM announced its Fleet Parts Discount Program today as Chevy reported a big uptick in commercial sales for 2018 and views 2019 as a year of tremendous opportunity as they roll out their new medium-duty lineup.
"We are launching a very expansive initiative today to help fleet managers protect the safety of their drivers, optimize the vehicle performance and reliability and support strong resale values all at the same time," Ed Peper, U.S. vice president of GM Fleet said today at the Work Truck Show in Indianapolis.
"There are many aftermarket parts that are out there that are priced below GM genuine parts and it forces many of our fleet managers to use aftermarket parts simply to save money. We don't want to do that anymore," Peper continued.
Discounts are based on the type of part and the size of the fleet, but can reach as much as 32 percent off the list price.
Any customer that has a GM fleet account number (FAN) and at least five vehicles in their fleet is eligible to access discounts on more than 450,000 GM parts and AC Delco maintenance and repair parts.
The program is available at nearly 1,400 Chevrolet, Buick, GMC and Cadillac dealers across the country. Most GM Genuine Parts and ACDelco parts are covered with a 24-month, unlimited miles warranty
"Some of the benefits of the program include a single electronic consolidated invoice with all the parts, labor, and service information. That's really important," Peper said.
Peper also announced that fleet sales were up big last year with sales topping out at 628,000 units.
"We were up nine percent in an industry that was up seven percent last year," he said.
GM is optimistic about fleet sales for 2019 as it prepares to roll out its new medium-truck Chevy Silverado lineup.
"In 2019, we feel it's going to be a year of tremendous opportunity because we've got great new trucks in the marketplace that are absolutely right for the commercial market," Peper said.
GM hopes to increase brand loyalty even more with its new Fleet Parts Discount Program.
"Fleet managers are obviously the most sophisticated vehicle buyers in the industry. They have a job to do. They have a purposeful job every single day to do," Peper said. "They've got to keep their drivers safe. They need to protect their assets which is extremely important to them and we think the new GM Fleet parts discount program can help fleet managers do that with quality GM parts at very, very competitive prices."