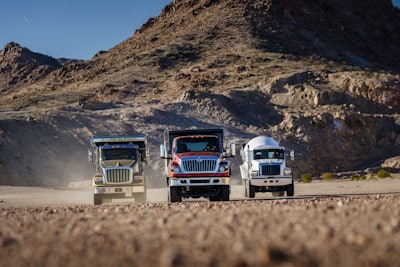 Navistar on Wednesday at the Work Truck Show in Indianapolis debuted a new body builder program designed to streamline the spec and upfit process between its dealer network and truck equipment manufacturers (TEMs).
The Diamond Partner Program, launched barely 10 days ago, already has more than 50 TEM participants, with each receiving a number of process, commercial and technical benefits including an assigned application engineer responsible for their account; a cross-functional spec review of the TEM's chassis specifications to evaluate order content and make recommendations that could remove cost, improve delivery time and optimize vehicles; access to joint customer events; and access to Navistar's Diamond Logic electrical system training.
"The best part is there's no charge for any of this," says Mark Stasell, Navistar's vocational truck vice president. "We really believe in driving that collaboration between dealers and body manufacturers."
Through the program, Stasell says he hopes to see many of the chassis modifications – like hole drilling and moving of the electrical system – migrate from truck shops and the aftermarket to Navistar's assembly plants.
"We can stamp holes in the chassis faster and cheaper than you can drill them," Stasell says, adding factory-stamped holes will feature an anti-corrosive coating while that coasting is stripped away when the chassis is drilled by a third-party.
The Diamond Partner Program aims at refining the small details that help sell work trucks, which tend to come in smaller quantities than their heavier over-the-road siblings. Sales of trucks in work truck space, Stasell says, happen one to five units at a time and he says the company is working directly with dealers to determine plans to improve their market share in their area.
"Every other week, we're at a dealer somewhere in the Unites States or Canada doing this," he says.
As part of the Diamond Partner Program, International is waiving the annual fee for both its Engine Diagnostic Software and Diamond Logic Builder, while enrolling members in automatic renewal for uninterrupted access. All of these benefits are free of charge to Diamond Partners, and there is no fee for signing up.
Wednesday's announcement comes as International's resurgence in the work truck segment is hitting its stride.
Stasell says the Lisle, Ill., truck-maker has doubled its order share over last year in medium duty, gaining six percentage points of market share versus 2018.
That includes winning municipality business across the U.S., even in the company's hometown of Chicago.
International's in-house built A26 engine is also finding its place in the market, having recently secured 1,600 orders for A26-powered tractors in cities across the U.S.