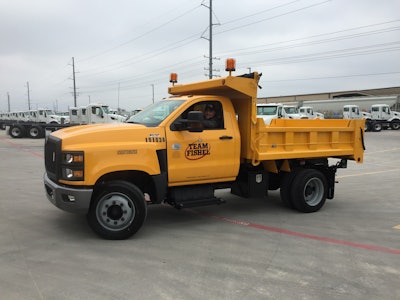 Major industry players converged today in Denton, Texas where International delivered its first CV medium-duty truck.
Rush Enterprises' Custom Vehicle Solutions played host to the event where the CV dually, upfit with a Godwin dump body, was delivered to Team Fishel, a nationwide provider of utility engineering, construction and network installation services.
"The Navistar family, the Rush family, Godwin and others are honored. Thank you very much. This isn't an end for us. It's a beginning," Dennis Huffmon, Navistar regional vice-president told Team Fishel CEO John Phillips just moments before he and Phillips unveiled the truck.
The Class 5 workhorse, which received a round of applause, is the first of roughly five dozen CVs that Rush's new Custom Vehicle Solutions location in Denton will be upfitting for Team Fishel.
"It's a truck that we're really excited about for our business," Phillips told Hard Working Trucks. "It fills a need that we've been trying to fill for a long time. From a weight and capacity perspective, it handles most of the work we want to do. It's a very compact, but very heavy-duty truck for our business, and we're excited about what it can do for our business."
Rush Enterprises is also excited about what the truck can do for Custom Vehicle Solutions which opened its doors in Denton about six months ago.
"I'm excited to be in Denton, Texas today to transition the first CV model over to our customer Team Fishel," said Rich Ryan, senior vice-president of Rush Enterprises. "This truck really represents a great opportunity for our partnership with Navistar to move into a marketplace that we have not been into for a while and that is the Class 4 and 5 marketplace across the United States. It's a great product."
Ryan believes the International CV will appeal strongly to two segments in particular.
"We really have two main customers that are extremely interested in this," he said. "The ones that are focused on the construction industry—there's a variety of bodies and upfits that go on the back of this that will hit that industry and with the economy in a pretty good position today there's a lot of interest in that. The other is the utility industry and that's where Team Fishel operates is in that segment of the business and this truck represents an opportunity for that whether you see an aerial lift truck coming down the road or a vehicle with a service body in the back, or in this case, a dump truck."
Godwin's 9-foot dump body from its 184U lineup is a popular upfit, according to Kristie Stockman, Godwin's national sales manager.
"This is a very popular model, especially made for units just like this new International CV," she said.
Stockman pointed out how the body was finished in Godwin's corrosion-resistant thermoset powder coat paint and primer.
"All of the materials we use are high quality, mill tested, minimum (HSLA A1011) 50 grade steel certified," Stockman said. "We try to put only the best products and components into them so that people end up with a long lasting, durable product."
For Team Fishel, the International CV presents several key advantages such as improved maneuverability on tight streets (50-degree wheel cut helps there), a comfortable and user-friendly interior, pre-wired auxiliary switches and a brake system that's part of the truck and not an add-on.
More of Team Fishel's confidence in the truck comes from the proven powertrain—GM's Duramax 6.6-liter diesel paired with an Allison six-speed automatic—and two industry icons that they've grown to trust through the years.
"We've chosen International and Rush as our partners because they've been absolutely outstanding in the past," said Rick Nichols, corporate equipment manager for Team Fishel. "They're absolutely outstanding now and we plan on using them in the future."